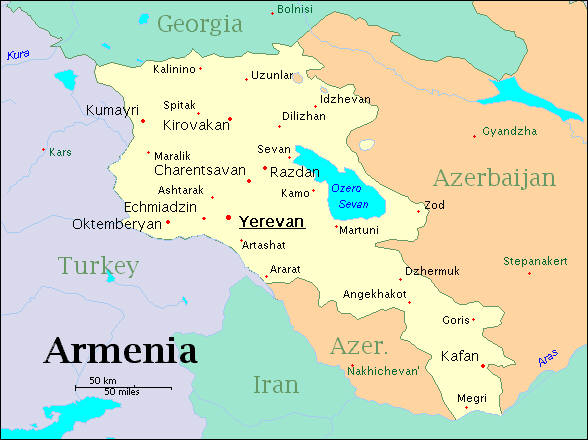 Yes, it's a tad bit early for my annual Christmas letter. You may have noticed the address block will be changing again. I'm heading back to Armenia with the same company I was employed to build all of those embassies. This time, I'll be working on an airplane hanger in the Yerevan airport..the very same one where my old roommate was jailed for not having his work permit. The current plan is that I'll be leaving Kodiak on or around November 15 and traveling to Birmingham AL. I'll be there for around six weeks until after the first of the year. Then, it's eleven months of hard work in Armenia. I'm guaranteed tax free status (330 days overseas in a twelve month period) with room and board paid. If I can, I just might kill some time in London, Paris, and ? They say that it's supposedly better than when I was there two years ago. I thought it was a toilet so improving on that won't be hard. I'm bringing along my bike and laptop so I should stay busy especially with the normal six day work week. I'm liquidating my living quarters having commitments for selling most of my stuff a month in advance.
I'll be heading back home and to Virginia while I'm in Birmingham. I'm tentatively planning on being in Virginia over turkey day and in Omaha some time in December. My oldest sister will be coming in from Saudi Arabia with her clan and will be spending some time around that time.
I'm also thinking about visiting her while I'm abroad but it won't be that easy. Saudi doesn't let just anyone in. You need to be invited by the government. I can't imagine any government inviting me in but I'm going to try.
Some footnotes to last year's letter. Last year, we nearly had the record rainfall falling .18" short of the 96.83" rainfall record. I'm glad to note that we've had just as many nice days this year as we did rainy days last year. I could have rung out my clothes and we could have blasted the record.
My e-mail address until I move in November is bluelou@ptialaska.net. (now void) (Bluelou was a character on the Blues Brothers movie.) If you're on the net, send me your address and I'll be sure to send you my new CompuServe address when I move. I have my own home page at http://puffin.ptialaska.net/~bluelou (now void). That too will change when I move. It has all of my form letters on file, some cool JAVA scripts (technical jargon for Internet buzzers and bells), my NFL football pool, and animated graphics. It's been quite fun making it but I'll have to change my theme when I move. I hope you get as many laughs reading it as I did making it. Hurry, it has a dated shelf life. Don't forget to sign the guest book. I made a page for my friends at http://puffin.ptialaska.net/~pristine(now void) and http://www.ptialaska.net/~karenb (now void).
Small town scandals: We have two flashing lights in Kodiak. One is a full cycle light converted to a flashing stop or yellow light. The locals complained about the traffic jams it caused as a full functioning stop light so the state buckled and changed it to a flashing light. The state got up the gumption to change it to a full functioning light with red, yellow, and green cycles coming from all directions of this three way intersection. Once again, the motorists complained and the state folded. We still have two flashing lights.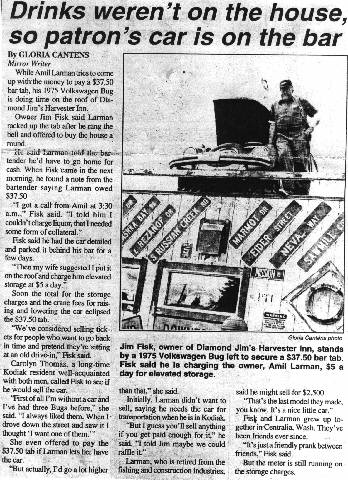 Gentleman Jim's, a local bar that prides itself in being Alaska's smallest bar, made the paper last year. A local patron failed to pay his bar tab when he bought a round for the house thinking it would be on the house. The owner hoisted the patron's VW on top of his bar and threatened to charge rent at five bucks a day until the $37.50 bar tab was paid. The story appears on my home page.
Our brilliant city council catered to the masses who were allergic to fluoride, numbering somewhere in the single digits, and voted down adding fluoride to the water. Let them drink bottled water. I'm sure the local dentists lobbied against it too.
As you can see, you need a sense of humor to live here. We had one such circumstance where someone was devoid of that humor. Our daily paper, The Mirror, had a political advertisement showing all the local residents who were endorsing a candidate for the state legislature. We have a local radio station with a daily call in program that you sell whatever you have to sell or get your opinion out over the airwaves. One caller mistakenly said that they had one person in the ad was dead when, in fact, this person was very much living but had recently lost her husband a year back. She was quite upset about that rumor. Wasn't it W. C. Fields who said that rumors of his death were greatly exaggerated? So much for small town chronicles. Guess it sounds like the tv show, Northern Exposure.
The fishing scene wasn't that good this year. Prices of salmon dropped due to low demand. While there were plentiful quantities, there were just too many folks fishing for the big dollar.
I managed a few trips off of the island, affectionately known as The Rock by most locals. I made two trips into Anchorage for my pilgrimage to Walmart. I had a friend play in the Anchorage city racquetball championships. I could have but I couldn't take the time off so I went in for the weekend and did my thing.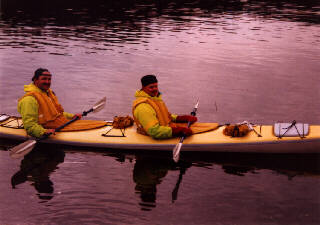 The infamous Mr. Ed flew to Alaska for an extended visit. I met him in Anchorage for some hob-knobbing and doing the tourist thing. Mr. Ed called this his bachelor party as he is back off the available list..yes, the wedding's back on and I may or may not be back in the states for it. We did some fishing, hiking, and kayaking while Mr. Ed was in Kodiak..along with the obligatory Mall Crawl..A.K.A. Parade Of Bars. Call it a successful mission when you get Mr. Ed on the plane with less than twenty bucks in his wallet. I've posted some pictures on the web page.
I did manage a trip to Seattle for the fun of it. I made trips to the Space Needle, the Science Museum, and the Kingdome for a couple of Mariner's games (they won them both..remember I would consider a job as a professional good luck fan!). Tried to find a cure from concert withdrawl by attending a couple of concerts..Faith Hill and Tim McGraw at one show and Huey Lewis & The News on the next night..not my faves but that's better than any show they'll have in Kodiak.
Did you know that Michael Jackson lives in Seattle? As I was checking out of my Seattle motel room (Motel 6..only the best for me), I found that someone broke the driver's side window on my rental vehicle. Everything was there: stereo, leather coat, etc. except for one leather glove..the kind with the fingers cut off. The policeman and I surmised the suspect was the gloved one.
My school project still takes up part of the time. Most of the locals question the need for a skylight with the weather we have in Kodiak. On my birthday, we had winds of 131 miles per hour. The drive shaft on my van broke down a quarter mile from my house. I was swaying like a drunk man all the way home. I don't understand the fuss you folks in the lower 48 have about hurricanes. Well, back to my skylight..somewhere between the skylight and the roof, there's a leak and every one is blaming everybody else. It's been a real headache to find as it only appears after a two day rainfall..not too uncommon around hear until we need it and then it won't do it.
The hospital is winding down nicely and should be done shortly after I'm gone. Hey, I couldn't pass up the opportunity to go back overseas. You can check out pictures of the school and hospital on my web site too.
An interesting note to be thrown in.. As a condition of employment, the hospital contractor requires a drug test. They tell the candidate up front that if they're using drugs not to bother applying. Despite this warning, there is an over seventy percent failure rate. You wouldn't think it would be that drastic on a small isolated island such as this. Consider the demographics of the average candidate..young single male in early twenties. Besides the failure rate, the biggest question in my mind is how these folks are arrogant enough to think they can beat a urinalysis. Go figure.
Our volleyball team shot craps just as fast as it rolled a seven. The league director brought some better teams into our division and we hardly won a game after that. The spring season brought us to the bottom of the heap. I had better luck at racquetball taking a first and a third in the two tournaments they held. I tried mountain climbing. Barometer Mountain is a hefty hike. My fat bod (spending all this time indoors brought the scale back to my pre-Turkey weight..scarry) didn't think it was too smart and strained every inch of the trail. Darkness yielded light (at least in my mind) telling me to head back to the house. I didn't want to get lost. I'm trying to ride my bike as much as I can when the weather allows. The odometer just broke 3000 on the bike..not bad considering it's five years old and it was parked eight months and then moved to Alaska.
My sister added a little girl to her collection of two little sons. I'm looking forward to seeing my niece when I get back to Omaha.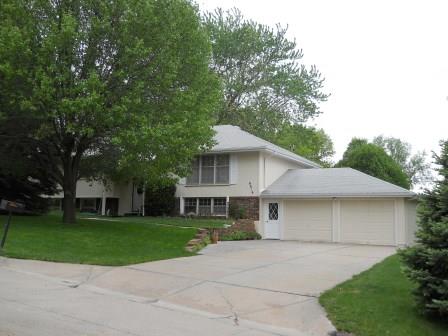 Mom and Dad have moved to a new house..new to them. It's bigger than the last which had more than ample space for them and whatever stray human creatures they choose to adopt..they get some real dandies! Dad was worried about his white carpet with all the construction workers passing through. Rather than doing the logical thing and changing the carpet color, he adds on to the house but has to take on city hall first..need easement variance. My name's on the title with them so go for the equity Dad!
The theater put on two productions that I was involved with: Kiss Me Kate by Cole Porter and Much Ado About Nothing by Shakespear. I like drama but my constant complaint about drama in Kodiak is that there's too much emphasis on comedy..made for the Rosanne Barr sect. I count myself lucky in saying that I spent all of my time back stage.
We just had our first snow of the season and the wind has been rather chilling. The airplane landing pond in back of my house is starting to freeze. The salt trucks are in tandem with the local body shops in the perpetual creation of that perfect Kodiak car. Winter's coming to Kodiak a month earlier than last year.
I'll keep you posted on my excellent adventures.