Howdy!
Welcome to The Bluelou Times! I've visited and lived in many interesting places in my young life. I've recorded many of my memories in letters I've sent to my friends. This web page archives several of those letters. This is a sample. My friends think I should be a writer. These memoirs are my first attempts at being that writer. If you like it, you can find many more just by clicking on the links to the left. You can also let me know by clicking the e-mail link below.

Please Check Out My Sponsors (And Some Interesting Stuff Too..) You can click on some of the flag links above.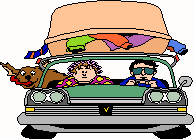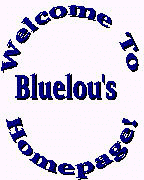 In 1994, I'd sold or given away most of my worldly possessions in three weeks (truck, ATV, fridge, washer, ACs, etc.) and boarded on a plane from Atlanta to Frankfurt Germany thinking I'd made the dumbest mistake in all my life. The story of those three weeks is a tale of its' own. I decided that since I'd made my bed, I'd best sleep in it. I flew on to Istanbul and then to Ankara. I was fumbling with my luggage trying to explain to the customs agent that those were truly cooking spices. Who in their right mind would want to take drugs INTO Turkey? All the while, someone who could have easily bailed me out of this mess...was laughing at me and my traveling rummage sale. Hey, I deserved it! I'm still the world's worst traveler. This person was my then roommate and longtime buddy, Mike Veal (aka Mr. Wheel). It turned out to be the best thing I'd done and I don't regret a minute. Mike's still with my company and we stay in touch. He's been a long reader of the Bluelou Times. Believe it or not, he's been to more places than I've traveled.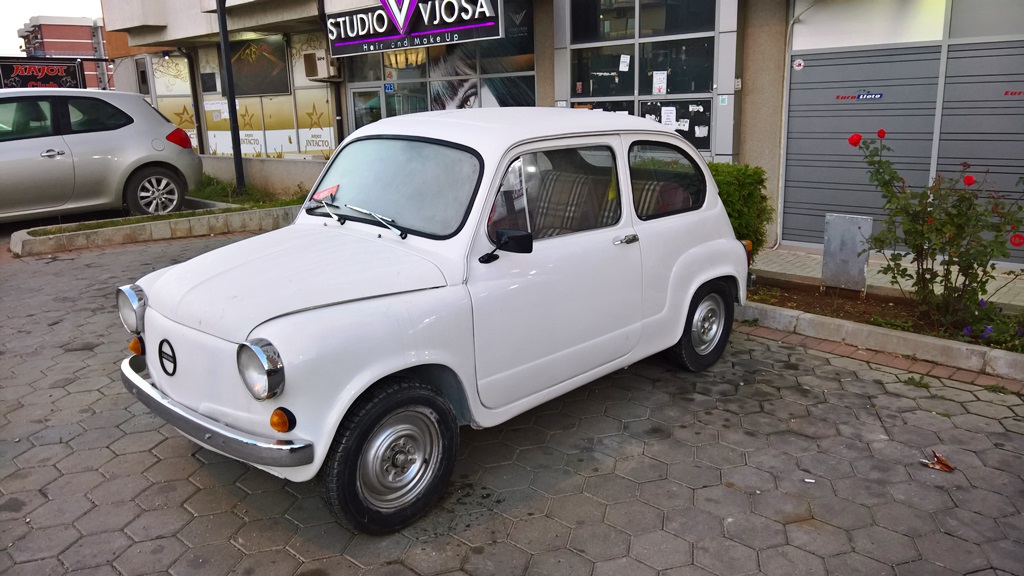 I see this car on my way to work. At first, I thought it was a car I saw in Germany, made in East Germany during the communist regime, the Trabant. I kick myself for not taking a photo of it while I was in Berlin. I Googled the name and found it was Yugoslava's lesser known car, the Zastava. I see more Yugos abroad than I do in their home land. The car is the Zastava 750. Though it's a four seat car, it's a Supermini. The pictures do not convey how tiny it truly is. I don't think I could fit in one. I'd love to see a side-by-side comparison to the Mini Cooper.
My last update was right after my trip to Berlin. My trip to Greece left me with Tinnitus...ringing of the ear...the right ear. While diving, I had problems equalizing the pressure in my ear canal with the water around me. It was a first time for me. While flying from Athens to Pristina, I had water in the ear. After it dried up, the ear started ringing. A few weeks later, I went to see an Otolaryngologist, an ear, nose, and throat doctor. He prescribed two antihistamine medications for daily use and another specifically for airplane travel.
Finding these meds was like a scavenger hunt. The hospital had no pharmacy to purchase these medications. The first pharmacy had none of these meds. The second pharmacy had two of the three. The last didn't have the one the doctor prescribed but they sold me an asthma inhaler which I bought skeptically. Total cost for all meds was just over twenty dollars.
Finding these meds was like a scavenger hunt. The hospital had no pharmacy to purchase these medications. The first pharmacy had none of these meds. The second pharmacy had two of the three. The last didn't have the one the doctor prescribed but they sold me an asthma inhaler which I bought skeptically. Total cost for all meds was just over twenty dollars.
Each visit to the doctor cost about eleven dollars.
During my trip to Berlin, I replaced the inhaler with a generic equivalent according to the pharmacist. The German pharmacist told me the med the doctor prescribed me was a controlled substance. I had a prescription but not on me at that time. There was no telling if they'd even honor my Kosovo doctor's prescription. FYI, in Germany, aspirin is a controlled substance. I later found an American equivalent at Bondsteel, the local military base.
The local Otolaryngologist told me my Tinnitus should clear up in a week. Three weeks later, it hadn't cleared up so I went back. He reassured me that it would go away. Two months later, it hadn't gone away so I booked an appointment with an Otolaryngologist back home. The Omaha Otolaryngologist told me to discontinue the medications previously prescribed and put me on steroids. There was some hearing loss which, like the Tinnitus, may heal or may not heal. The medical profession hasnít found a reliable cure for Tinnitus. Doing my research online, I knew the answers coming in. I just wanted to make sure I was doing everything I could to maximize my chances of recovery. There are treatments for masking the ringing. I'll keep you posted.
As written in the previous paragraph, I flew home in November for the next round of home. Please note that the four F's is now five...food, family, friends, finances (the new one), and fhysicians...but no fhun! My once mighty Huskers were out of town. Given their deplorable record, I doubt if I'd have gone to see them. The Chiefs were on the road as well. I flew in on Saturday and back out on Saturday. It was definitely no fhun! I was a human pinball bouncing from one appointment to the next.. BTW, flying is implied and all of that running did little for my fitness! I was too busy driving from appointment to appointment. I only got one bike ride in and zero trips to the gym.
The 2017 Huskers...I said this when they hired this coach and it became my mantra: He was a 0.500 coach for his career. How could he be anything else but a 0.500 coach? He's a nice guy but they finish last. The state of Nebraska expects more. A 4-8 season was the worst since 1961. That coach got canned as well. That firing and subsequent hiring gave us Bob Devaney who led us to our first two national titles. Unfortunately, shortly after we extended Rileyís contract, and contracts of his two predecessors, we terminated all of them. It's clockwork. The University of Nebraska athletic department and the boosters are paying unemployment/retirement on three former coaches. I do not pity these ex-coaches. They knew the risks upon signing their contracts. Other than ego and the professional challenge, none of these former coaches need to work another day in their lives. Other than Riley, all are working elsewhere in football while we pay the remaining terms of their contract. They could just as easily be earning a comfortable retirement fishing or watching flies on the wall. Now, we're in the CFB coach draft lottery and we'll have to endure more years of mediocrity. Weíre coach killers!
I loaded up on clothes and a few CDs but the bulk of what I brought back was either food or items for others.
I took Ma to visit her family and got to visit my family as well. As I always boast, Maís 86 and all of her siblings are still around. I hope I get those genetics. She is still in great health. Her short term memory isn't what it used to be and she's leery of driving in the dark. Our church is moving the daily Mass to 0930 so it's a win-win. She's got a global legion of fans she does not know.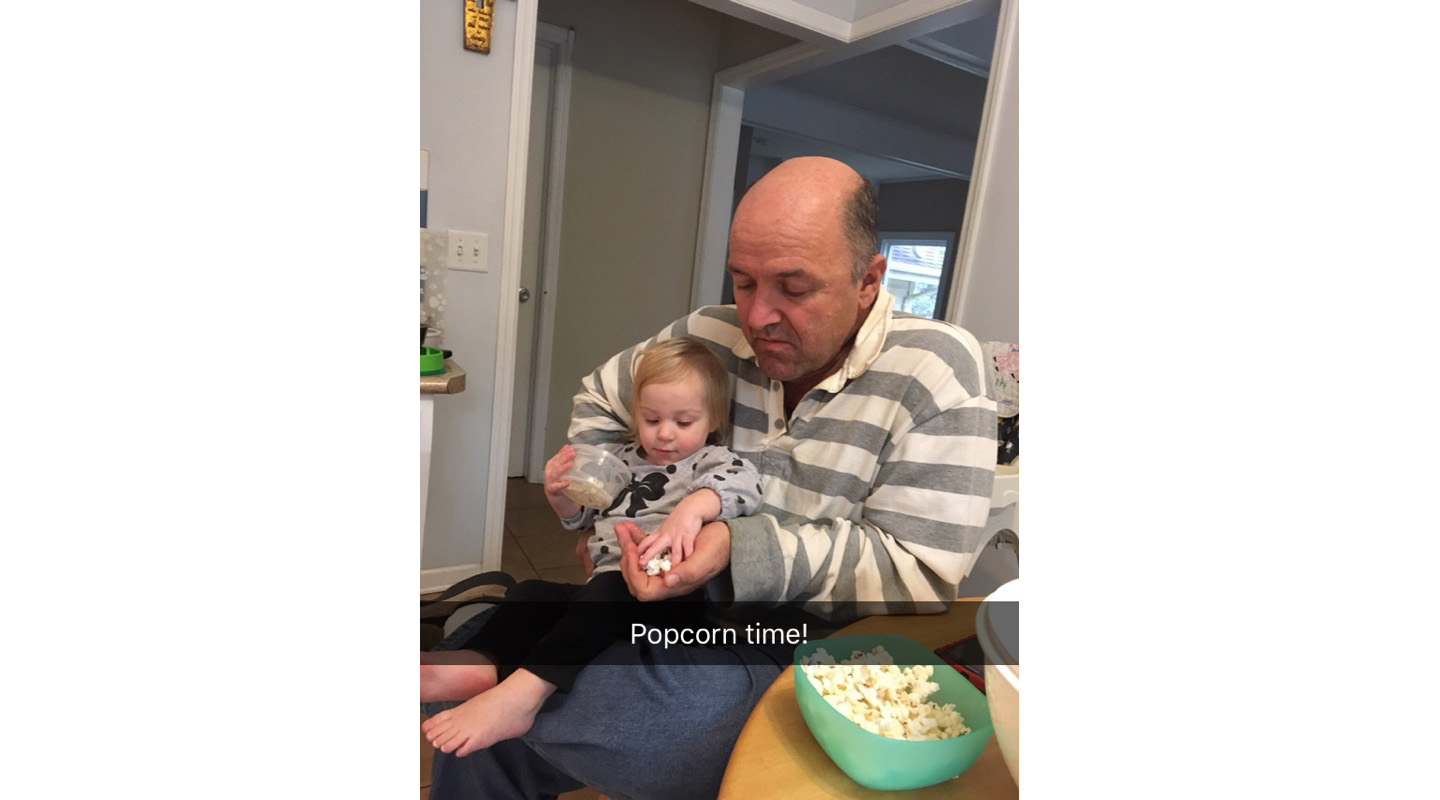 Bluelou, the marginal uncle, had a popcorn feast with his great-niece Lyla with Zoey, the dog, playing the ground crew out of sight, making certain that any popcorn on the floor didn't become a slip hazard.
The 'no fhun' part... For the past three years, Iíve been trying to figure out the answers to two retirement questions; where I want to be and what I want to do. The only thing I've been able to answer is that I want to be warm in the winter and cool in the summer. I've been boring both family and friends trying to come up with answers. Well, I had an inspiration for the warm in the winter part: Las Vegas. It's cheap, a growing economy, low cost, and it has plenty of entertainment. Itís not far from just about anywhere both on the road and via airplane. In my next planned trip, currently scheduled for April 2018, I'm going to go to Vegas to have a bit of fun along with a scouting trip just to get a lay of the land that isn't the Las Vegas strip. This is far off in the future but I'll probably rent until I find it suitable to buying. I've penciled in a helicopter ride around the Grand Canyon and a UTV trip in the Mojave Desert. I told my friends they can come along but if they want to drive, they have to rent their own UTV. How's that for fhun?
Yes, Iím ignoring the big, white elephant in the room. As I've written before, I don't care much for the gambling in Vegas. If you talk to folks in Vegas, unless they're directly involved with the strip, they avoid the strip. I'd go for the food, sports, and entertainment. Since Vegas is a travel magnet, I'm hoping friends and family will come and stay with me. Yes, be careful for what you wish for...you just might get it!
I want a lock and leave unit, either a condo or flat, that I don't have any upkeep and will have neighbors that discourage unwanted visitors in my home.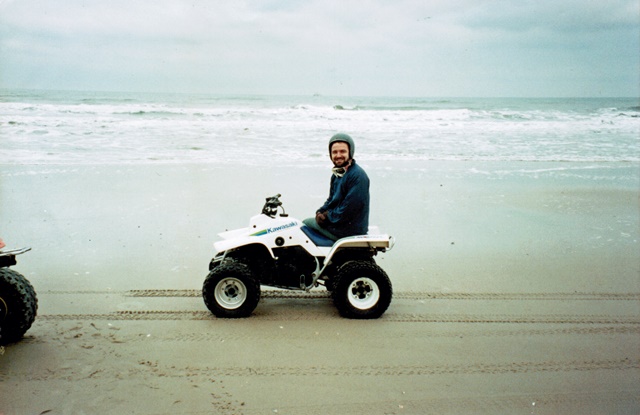 Years ago, before I became an international traveling hobo, I owned an ATV. I rekindled that interest by following a TV show specializing in UTV adventures. Granted, the show is an infomercial for Polaris vehicles but it worked piquing my interest in off road adventures. Owning a UTV and exploring the great outback may fit into my retirement plans. A home in Vegas may also fit into that plan. I could hit the desert in no time and explore.
Iím thinking I would to revisit my old project cities without doing other international travel. I would travel throughout the US. I would like to see sports and concerts and other events I missed while working abroad. I have no regrets about living abroad. Even when I was overseas, I always exploited the local opportunities.
While there was snow and rain in Chicago waiting for my return flight, my travel went as scheduled. It was boring which is the way it should have been. Austrian Airlines allows customers to bid online for upgrading to business class. I bid 450 Euros, about $470 each way on the Vienna-Chicago leg. It's just over ten hours. To go through Expedia for the whole trip usually costs and additional three to four thousand dollars. I was a successful bidder on the return trip to Vienna. The premium seats on the larger international flights fully recline into beds. My large frame was a tight fit in the space allotted. I didn't sleep much. I did enjoy the added space and the flight attendants who seemed much flirtier with the passengers in business class than coach. The food was much better and they gave you more. My trips to home from Beijing in 2007-2008 allowed me to upgrade to business class by trading miles or paying $150 each way so itís been a while since I regularly traveled in business class. I could get used to this again.
As I write this letter, itís November and weíve already had three snowfalls that havenít had much accumulation. The first one came in September. While Kosovo is the same latitude as Omaha and the weather patterns are the same, itís at twice the elevation. The snow on the higher elevations came and stayed.
Holiday plans...I intentionally bumped up the trip home so I didn't have to travel anywhere near the holiday season and I have no plans to travel for Christmas and New Year's. I thought about it but my criteria for travel didn't really work out. I wanted to travel with one flight and still use just what vacation time the company gave us, two and a half days off. Unfortunately, the flight schedules didnít really work for me. I have no regrets as I usually get the last minute travel jitters so I spared myself this year. I may be entertaining a Kiwi friend I met on my Australian rain forest tour. He started in his former home of London and he's on European walkabout on his way back home to New Zealand. You'll read about it here.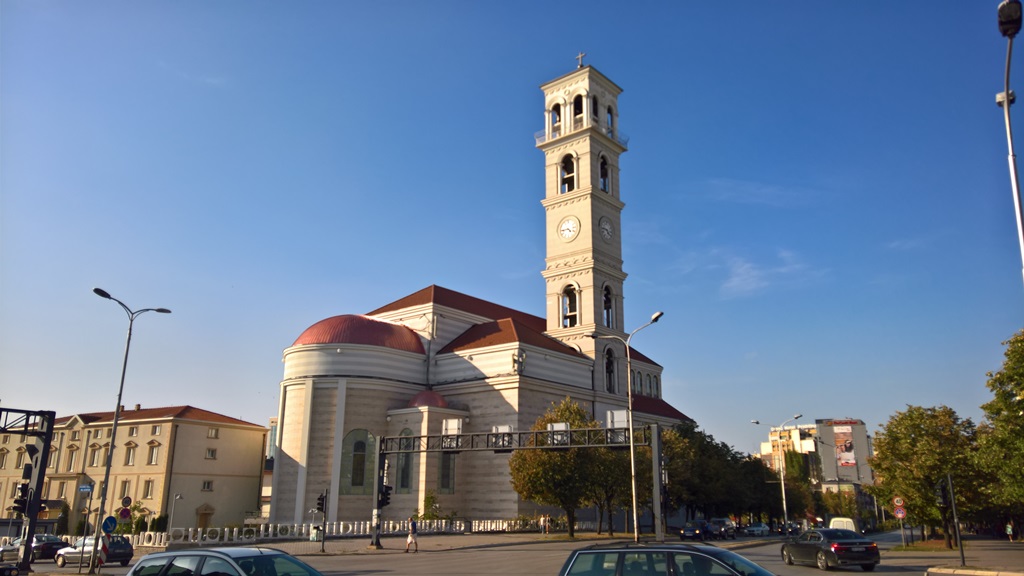 Iíve updated the Mother Therese Cathedral exterior photos. The majority of the work is completed. I have updated photos of the exterior but not the interior. The interior has had work done to it but I simply havenít had the opportunity to take them.
November 1, 2017 was my two-year anniversary in Kosovo. Iíve said many times that Kosovo is the unknown jewel in the company project portfolio. Still, the traveling hobo in me yearns to find out what's next. We'll be finishing up this one in late spring of next year. Given my past history, I have no expectation of seeing the finish line for this race. I did bet the boss a steak dinner at a Ruth's Chris Steakhouse (or a comparable restaurant) that he'd be here past May 1, 2018. It's going to be interesting to see how we settle that bet.
An interesting keyboard I bought. Yes, it does work. The obsolete Microsoft phone connects to a HDMI TV jack and the phone becomes a track pad. This keyboard does have a mouse function that I havenít quite figured out. My tablet was having issues that I eventually fixed. Now, I have another option.
For Thanksgiving, we worked as we always do when overseas. The first year I was here, the company chipped in for turkeys along with our choice of steak or salmon dinner. The turkey was a bit dry and two of our crew did the actual cutting and serving. Still, the effort was much appreciated. This year, we had the same steak or salmon dinner at a different restaurant but no turkey. Our client threw an impromptu Thanksgiving party and invited our company to attend. I ate part of a wing so I got my turkey on turkey day.
As a kid, I didn't care for turkey as it was always dry. Until I discovered dark meat, I'd eat a hot dog while the rest of the family ate turkey. I had chili dogs for my Thanksgiving lunch. Oh, checking the boxes!
Like most project locations where folks are away from home, the married couples take pity on the single folks and adopt them for special festivities. We generally have potluck celebrations. This year was no exception. That second plate, a drumstick...my weakness, followed by the dessert plate did me in.
Iíll be doing my turkey leg crock pot potluck Thanksgiving dinner this year. Several years ago, a colleague and I searched Helsinki via the internet yet found no hotel or restaurant that would help us get a turkey fix. We settled for cheeseburgers from a local chain restaurant named Chico's. The following year, we moved to Jakarta. I spotted turkey legs at the local butcher so I brought in the bachelors for turkey, potatoes, and carrots from the crock with canned gravy. The others brought bread, dessert, and their favorite beverage. Thus, a new tradition was born. It may not happen directly on Thanksgiving Day but I will help those get their turkey fix. I may have some football on the DVR so we can follow that tradition to boot.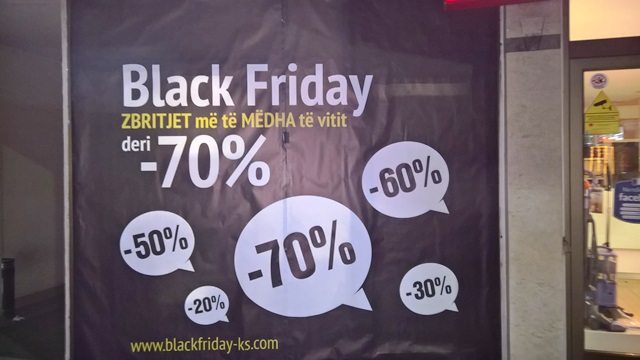 Same store, same window, same promotion, one year later. I saw a few more window displays for Black Friday this year. Black Friday in a Muslim Country...I wonder if any Kosovar really understands the true meaning of this window. I didn't see any early bird campers. Word had it that going anywhere near the big shopping mall resulted in several frustrating hours of pure gridlock.
With fall upon us and winter coming, the smell of firewood permeates the air. Air quality becomes an issue, especially if you have asthma. You see lots of firewood being hauled on the streets and many stands lining the roadways. As the temp drops outside, the firewood gets stoked inside.
I'm eagerly anticipating New Year's Eve fireworks as well. Itís not one single display but several independent displays lasting into the wee hours of the morning. Last year, I grabbed a few cold beers and propped myself on my balcony and watched the festivities around the city skyline.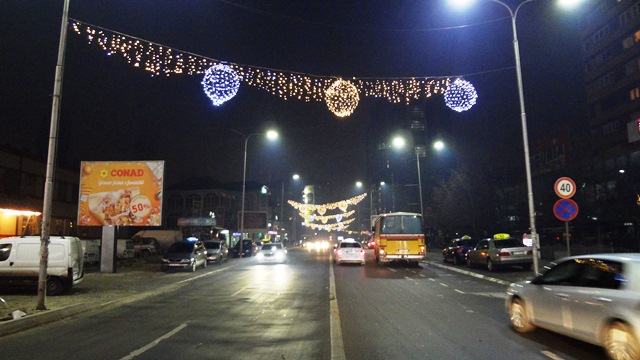 Shortly after Thanksgiving, the decorations started going up in Pristina. They grow from year to year so they'll be better for this holiday season.
I regret not flying through Minneapolis as I have to travel from the domestic terminal past the Bose kiosk. There, I could trade in my headphones for the newest noise cancelling headphones for one-hundred dollars. Unfortunately, they wouldnít trade my headphones for the latest, greatest headphones as my current pair wasn't old enough. Then, I stopped using Minneapolis. When I was home, on a hunch, I called the nearby Bose outlet store who told me they no longer have trade-ins for headphones but the ones I wanted were on sale. Ignoring the obvious question about sale price, I passed. Recently, I got an email from Bose who advertised the same headphones with an actual price. I looked at it long and hard leaving the email open to consider it for future purchase. That same day, I made a trek to Bondsteel where they had close out pricing that was cheaper than my email. I went to the counter to ask for a price check...cheaper than the shelf price...thirty dollars cheaper than the email price. If I put it my shopping cart where I could think about it for a while, no harm done. Wrong! I never took it back to the shelf. My current headphones didnít have any issues. I have a mess of headphones for all occasions. The price of being an overseas audio freak/tech junkie. I told my plight to an associate who bought them for the hundred dollars I'd have paid as a trade-in...lucky me!
On November 23, 2017, it was declared that November 28, 2017 was Flag Day. In the business world, it could best be described as sudden. We worked that day which required us to pay our local workers double time to do so. November 28th was a Tuesday. The streets seemed eerily quiet.
As long as Iíve been a bachelor, since I moved out to college, have never decorated anything for my apartment or office. I saw the secretary of our client decorating their office with a Christmas tree and trimmings. I remembered from the previous year that our office had a Christmas tree. I volunteered my muscles to put the tree up if the office girls would decorate it. A Christmas tree in a Muslim country being decorated by Muslims...hmm! Well, I got roped into tree erection as well as decorating. It conjured up memories of the abominable snow man in Frosty the Snowman when he topped the tree with the star.
As I've written on several occasions, one of our crew is married to my housekeeper. With a wife and two young children, he's trying to find future employment after our project is over but he needs to hit the ground running with an income stream. He likes to pick my brain regarding ideas for a possible business. He was an independent businessman recycling metals until the company who bought his product took over his market and forced him out of business. I suggested the roach coach, the truck that visits construction sites and factories selling various eats and drinks to the workers. Heíd drive and sell and his wife would make the food. He prefers healthy foods. I thought this was wishful thinking as most consumers are hungry first and health conscious second. Smokes and cokes will rule over healthy! He thought it was a brilliant idea but dropped it realizing he couldn't come up with the money to buy a vehicle and no bank would loan him money. A few months later, I suggested he work for a grant as the spouse of another employee helps write grant requests to the EU. I'll keep you posted on his plight.
I confess that it's been a while between BLT issues. Quality over Quantity!