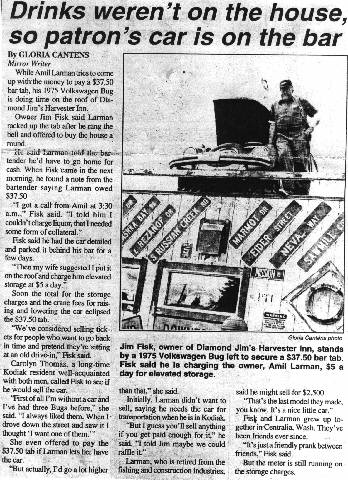 This Story Appeared In The July 14, 1995 Issue Of The Kodiak Daily Mirror
Drinks weren't on the house, so patron's car is on the bar
By Gloria Cantens
Mirror Writer
While Amil Larman tries to come up with the money to pay a $37.50 bar tab, his 1975 Volkswagen Bug is doing time on the roof of Diamond Jim's Harvester Inn. Owner Jim Fisk said Larman racked up the tab after he rang the bell and offered to buy the house a round.
He said Larman told the bartender he'd have to go home for cash. When Fisk came in the next morning, he found a note from the bartender saying Larman owed $37.50.
"I got a call from Amil at 3:30 a.m.," Fisk said. "I told him I couldn't charge liquor, that I needed some form of collateral."
Fisk said he had the car detailed and parked behind his bar for a few days.
"Then my wife suggested I put it on the roof and charge him elevated storage at $5 a day."
Soon the total for the storage charges and the crane fees for raising and lowering the car eclipsed the $37.50 tab.
"We've considered selling tickets for people who want to go back in time and pretend they're sitting at an old drive-in," Fisk said.
Carolyn Thomas, a long time Kodiak resident well acquainted with both men, called Fisk to see if he would sell the car.
"First of all I'm without a car and I've had three Bugs before," she said. "I always liked them. When I drove down the street and saw it I thought 'I want one of them.'"
She even offered to pay the $37.50 tab if Larman lets her have the car.
"But actually, I'd go a lot higher than that," she said."
Initially, Larman didn't want to sell, saying he needs the car for transportation when he is in Kodiak.
"But I guess you'll sell anything if you get paid enough for it," he said. "I told Jim maybe we could raffle it."
Larman, who is retired from the fishing and construction industries, said he might sell it for $2500.
"That's the last model they made, you know. It's a nice little car."
Fisk and Larman grew up together in Centrailia, Wash. They've been friends ever since.
"It's just a friendly prank between friends," Fisk said.
But the meter is still running on the storage charges.
Larman sold the VW to a local gym teacher. Fisk was killed in an auto accident in the winter of 95. He will be missed.