It's a bit late…excuses are due to my own bad habits and some seasonal travel…but it's the best of edition of the Bluelou Times. I know I'm repeating myself (both by writing this and borrowing from my previous issues) but it's the only BLT you should read if you only read one.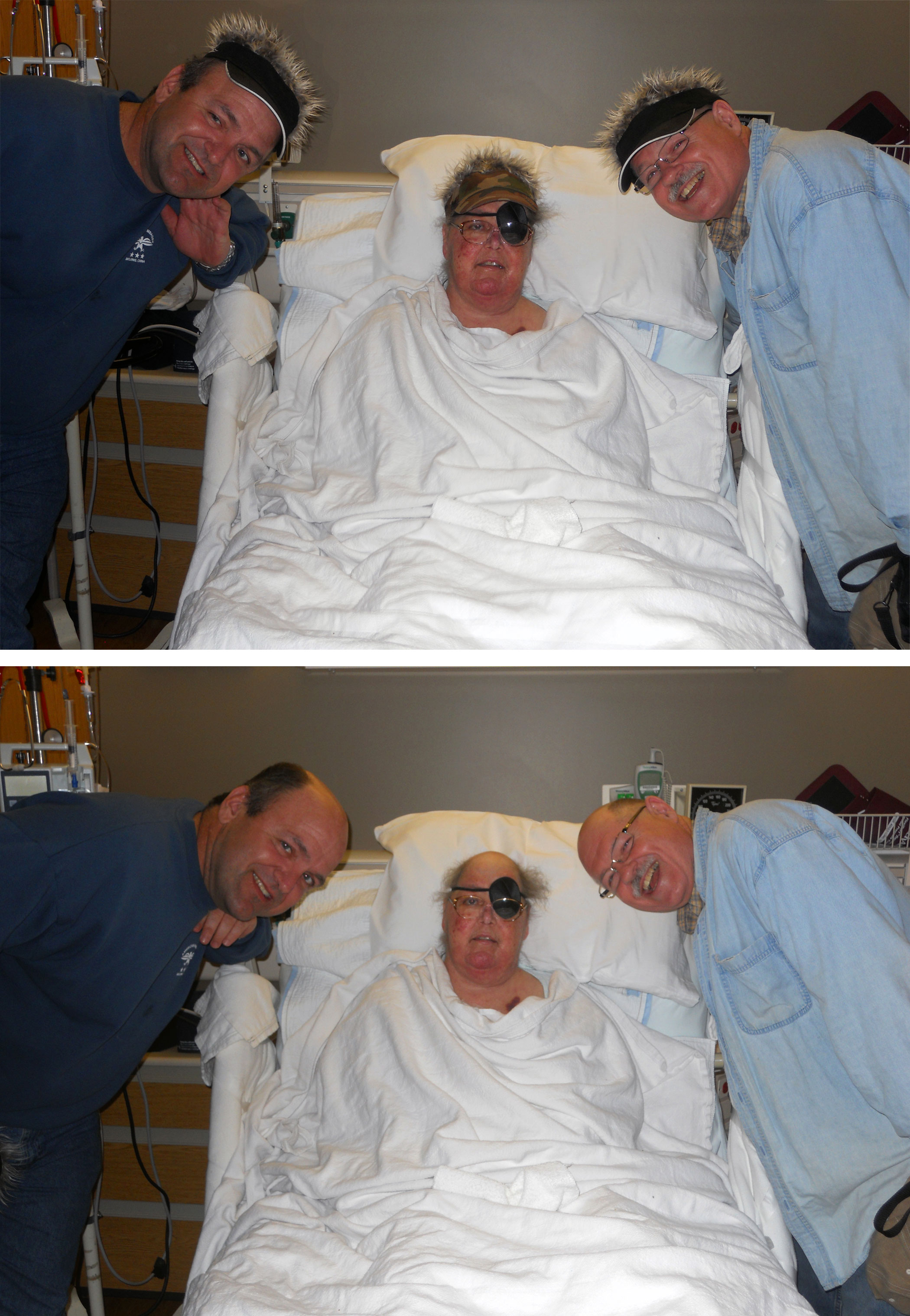 I'll get to the business end first and move to the other more entertaining stuff later.
The photo at the right was taken at an Easter party held at the request of my sister Lisa. Another sister photo-shopped the hat on my sister as well as merging the photos together. Lisa wanted to have the family together for Easter cake and ice cream. She was big into holiday celebrations. Held at the hospital, it was the last time our family was together until her funeral held 9/13. Lisa, 51, died 9/7 after a two and a half year bout with cancer. She'd have turned 52 the day before Halloween. Lisa's birth was induced so her doctor could go to a Nebraska football game. She smoked cigarettes but quit too late. When first diagnosed, she refused the doctor's advice of putting her into a hospice. Even during her latter days, I believe she was laughing inside at those who predicted her pending death...each and every day. Cancer may have taken her body but it didn't take her spirit.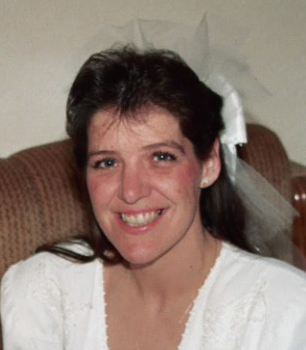 The photo to the left is the memory of how I'll remember my sister. She was so full of life and wanted to share it with all. She used to drop me off at the wrestling matches, the mall, or take me to concerts because I was too young to drive. We drew names for Christmas. In spite of the most intense efforts at secrecy, it was Lisa who deduced who had who. All I can see is that Lisa is up in heaven with Dad and Dan (brother who died when I was 14)...probably crowding the other angels in heaven with Christmas decorations.
I must admit that it was the musical selections of my older siblings greatly influenced my musical taste today. Lucky for me, they never got into disco or rap.
When I mobilized for China in July, I knew I'd have to make the long journey home for her funeral. The company gave us a two day weekend for the Labor Day holiday. All the guys were going to Thailand, Hong Kong, or other exotic locale. I stayed in Guangzhou. I just arrived knowing I had another long journey in front of me.
The only question was when I'd get the call or the email or text…and that wasn't long. It was the following week. I got the notice after I'd returned to the office from lunch. I'd been dreading the necessity of checking my email and text messages hoping that if I ignored them, she'd get better. Wishful thinking! It may sound cold and callus to wish her death. For me to wish her another day on earth would only extend her pain along the sorrow of my family and friends...bittersweet or a double edge sword...seemed selfish to me. All I wanted was no more pain for my sister and my family.
Once again, I'm crawling upon my soap box for a minute, don't smoke. Cancer not only cheats the smoker of life but those around them that love them as well. Watching a loved one die a slow death from those coffin nails is excruciatingly painful. Cigarettes are a slow form of suicide. Smoking is like drinking and driving...rolling the dice of your life. You can't convince me that you might have a relative or friend who lived a long life as a chain smoker. The label on the package says it all, CIGARETTES CAUSE CANCER! I've watched other friends and family die from cancer. Why anyone would want to commit suicide is beyond me.
I thank all of you for the email and Facebook posts of encouragement. Thank you for the prayers. To my friends, family, and associates, thanks you for all of your support. The guys at work donated nearly $500 to the American Cancer Society and the company added more. Friends sent donations to the cancer wing at the hospital. You truly find your friends in hard times. Again, thank you!
I started back to work in May…first in Birmingham for a couple of months and as I wrote above, went to China in July. I know I'm bouncing around, I hope it'll be clearer as you read on.
When I last left you, it was just after I returned from the Big 12 Championship…funny how it was our last…my mighty Huskers weren't so mighty at the end of the 2010 season…or 2011 season for that matter.
I was supposed to start in Birmingham in February but the duration of the client approval took longer than originally forecast. I spent some much needed time with friends and family along with some good old 'me' time. I knew I needed the rest but if Lou isn't busy, Lou gets antsy for work. When I returned from Morocco, I told everyone that Ma was in cahoots with God. I got home and Ma was recovering with a serious allergic reaction to a medication followed by a broken ankle in January. I have a theory that she was putting in a word for a caretaker to help her out so the Big Guy delayed the start of my work…who am I to argue?
From the last 2010 issue of the BLT:
"Right now, I can't be 100% sure of my next destination. I had inquiries/offers to go to Sacramento, Winchester VA, New York City, Turkey, Kuwait, Libya, Afghanistan Egypt, Saudi Arabia (2 times), South Korea, or two offers from China."
You didn't have to be living under a rock to know what's been happening in those countries. I can relate even more stores but I'll share with you just one.
In 2010, I passed on a good offer to go to Egypt, specifically Cairo. I was reading a trade publication that interviewed a high manager from that company. The project I'd be working on was closed down and the expatriates had been evacuated to their native countries. The project, right in the center of the uprising, was unharmed as it was protected by the Egyptian military under a paid contract between the client and the Egyptian military. Given the situation, I'm didn't miss my not being there.
I'm told that the majority of projects our former client had in the Middle East are on hold due to this unrest. My former project remains the only one still going though at a slow pace.
While I was waiting at home, I had several other offers by head hunters and even my former employer but I was holding out for international work…with no commitments/responsibilities, I can afford to be picky.
The difference between me working domestically and internationally is one plane ride. The thought of me working within a couple hours' drive is getting to be increasingly attractive. Who knows what I'm going to do when I grow up?
During this down time, I hung out watching a lot of football and basketball. My daily pilgrimage to the gym didn't help as coming home, I always pack on the bulk but usually I'm not there long enough to do serious damage…now I've done serious damage. Getting back overseas hasn't helped.
As weather allowed, I rode my bicycles. Between the added girth and the added years, riding my bike hasn't been easy but I won't complain. It's better than working though I need my work.
While at home, I did my share of yard work and snow removal. We were "blessed" with an overabundance of snow last winter.
In January, I flew to Denver for a weekend. It was short and snowy. I stayed with a friend I met while I was living in the UAE. We traveled to Boulder to hang out with the elite. My second tour of the Coors Brewery was just as memorable as my first trip thirty years beforehand. There weren't any sports going on. We ate at Casa Bonita and a restaurant featured on the TV show Man Versus Food.
I wanted to travel to the Big Apple but it was cancelled due to weather.
In April, a friend and I made a KC run for cholesterol, baseball, and a visit from the legendary Mr. Ed. About an hour north of KC, the temperature dropped twenty degrees and the wind shifted directions. The weather channel reported tennis ball sized hail in the land of Mr. Ed. His wife said they saw quarter-sized hail. Another friend said an acquaintance of hers had her roof and windows of her house destroyed along with their car.
Call me a baseball purist but my beloved Omaha Royals moved their games to a new field not far from my house. They're now called the Omaha Storm Chasers. I know I'm biting the hand that feeds me but I don't like new stadiums...they only drive up the cost of going to a game. Sure, it's nice to have a new stadium...wonderful to have it ten minutes from the house...but it was pure pigheadedness that both the Royals/Storm Chasers and the College World Series couldn't play in one stadium giving a break to the tax payers. The name change...Omaha got tired of paying royalties to the parent club, the Kansas City Royals.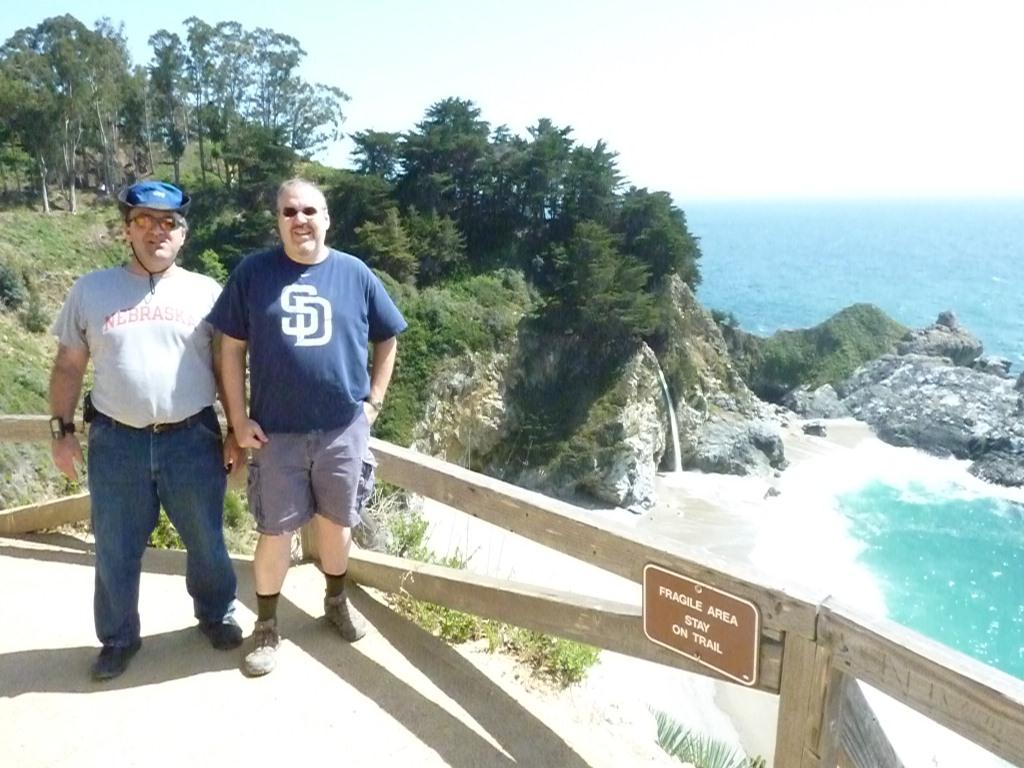 In April, I got notice that I was approved by the client and I was preparing to go back to work. In early May, I did make it to California…nice, short, and sweet. I visited a college friend who lived about midway between LA and San Francisco. On our first day, we drove through the wine country and the mountains for a brief run up the coast line and some brief hiking. FYI, the Pacific Coast Highway was blockaded by a landslide so we traveled up a mountain pass which left me rather queasy due to the constant twisting and turning of the road. We both sobbed over the sweep by Dallas of our once mighty Lakers and hoped our Huskers rebound from a long disappointing period.
The next day, we bowled a game (a tradition with my friend and I) and toured the beach. We drove by the infamous Pismo Beach but didn't venture traveling the beach as we didn't have four wheel drive. My days of plopping my sorry butt down on the beach and working on my tan have been long abandoned so it was merely a drive by beach visit. I could tell my lost youth was in mourning.
I was best man at my friend's wedding twenty-one years ago and we reminisced over the wedding video. Among other thoughts, there is visual proof that I once had hair on the top of my head.
In May, I landed in Birmingham a bit more than a week after the tornados passed through. I didn't see much of the destruction but I'd seen and heard plenty of it. A couple of local TV crews set up live feeds from the entrance of my apartment where many of the refugees had moved.
Having been idle for seven months, it was with mixed emotion that I returned to work. Even unemployed folks develop certain routines that seem to be unbreakable. To survive in that mode, I'd need a part time job to keep me busy and health insurance.
Recently, a couple of associates were moved from the field to the home office on permanent assignment. I've worked overseas as long as these folks have. We both had our first international assignment on the same project. One is single like me while the other is married with family. Given that I've considered a similar transition, I was intensively curious as to why they accepted the new post. My big question was why abandon the adventure of working overseas for the mundane home office? The answer was that it was time for change both personally and professionally. I'll be staying in touch with these folks to see how the transition is taking place.
One commented an oft repeated question to one of my reassigned friends…what kind of car was he going to get? I often go to web sites and even built a vehicle just to see what I can get but I cut it off when they want me to furnish contact info. I do have an out: Ma wants an SUV for the winter snows.
I went back to work for an old company. They've moved a few miles westward since I was there last in 2003. We no longer had to fight for office space. I hooked up with many of my old associates from ago that I call my extended family. That was a major perk.
My company furnished apartment was less than a mile from the office which is extremely convenient. I didn't have to fight rush hour traffic. The apartment complex had a small gym and there streets were ideal for walking. The company furnished apartment came fully furnished including cable and internet…about all I need. It's a really nice apartment but I wish they'd enforce cleaning up after pets. It's not safe to walk in the grass at night. I worked on names for the raccoon and the three rats that greeted me at the trash bin every time I dumped my trash…there's a rock band title in there somewhere.
I set the living room up to be my theater complete with projector, sound system (a pair of Bose computer speakers), and a small HD TV. I slept on the couch, rather than the bed, every night. With a wireless video transmitter, my projector makes a 20 foot image on the living room wall. With my iPod and Slingbox, I didn't lack in entertainment but I need to redevelop my interest in reading.
I had a company furnished rental car at my disposal. There seems to be something in my subconscious being that wanted me to wreck the rental but I managed to stop just in time…plenty of close calls involving other cars and even a pedestrian…knock on wood!
As I'd guessed, summer shifted into gear shortly after I landed. I'm got acclimated to the heat and humidity which hadn't hit home before I left. As a general rule, I didn't venture outside before the sun went down. I used to say that when the weatherman says there's a twenty-percent chance of rain, there's an eight-percent chance it won't rain. In Birmingham if it's a twenty-percent chance of rain, it's a lock, there will be rain! The percentage is an indicator of the longevity of the rain.
I've made two quick trips back home in consecutive weekends. The first trip was a family reunion for Ma's birthday…number eighty. She wanted only immediate family so it was a small affair. The next weekend was my 30th class reunion. If I'd been smart, I'd have tried to combine the events in one weekend but that was hindsight. Both were very nice.
The class reunion was held on two consecutive nights. Many attended one night or the other but not both which was a disappointment for me as my time constraints allowed me to attend the last night of the festivities. It did boggle the brain how some old habits never died. The guys sat with the guys and the women sat with the women. I realized this early into the festivities and fixed it immediately (at least for me).
Our reunion was combined with the annual Gateway to the West Celebration. A carnival, parade, and street dance were among the festivities. It was enough for me as a lad but not now.
While landing on the first trip home, I was astounded by the flooding of the Missouri River. In an attempt to alleviate flooding in the southern US, the US Army Corps released the waters from dams up north creating flooding along the Nebraska-Iowa border. I never really appreciated the extent of the damage until I saw it from my airplane window. A quick drive-by only emphasized the condition. The lawyers will be busy with this one long after the waters receded late last year.
FYI, there are two nuclear power plants that are fifty miles from my house that rest on the banks of the Missouri. The one closest to my childhood home (not more than three miles and in a direct line of sight) was shut down for scheduled maintenance. Both plants had crews working 24-7 watching the rising waters as well as the airport.
In the grocery store, a woman told me of a tale where someone was ticketed for taking his raft down the interstate. He thought the river was closed for boating but not the interstate…go figure.
Since my apartment was so close to the office, I often bought a sandwich at Subway and went home for lunch. No, I didn't set up my kitchen since this was a temporary setup. On one rainy day, I heard thunder and lightning very close to my apartment. I didn't know how close it really was. When I arrived at home at the close of the work day, a TV crew and electrical utility truck were parked in my lot. It wasn't a coincidence. The TV crew said lightning had hit one of the buildings and a maintenance man said it was my building…not more than a hundred feet from my apartment. I was told the fire department was called by someone inside the building who smelled smoke. It turned out to be smoldering insulation in the attic…wow! A quick visual survey didn't indicate any damage. It didn't take long for me to realize that the lightning had struck WHILE I WAS IN MY APARTMENT! All of my toys survived. I hadn't heard of any harm to anything or anyone.
With all that excitement behind me, and two short trips back home, I was hoping for a quiet weekend but that adventure thing struck again…what about a trip to Atlanta to see the Braves? This was the only weekend the Braves were in town before my anticipated departure. Add in a Def Leppard / Heart concert and that was enough to get me out of town.
I'd seen Def Leppard many times but never Heart. The rain came in bulk before the show but I bought a seat under the canopy. A burnt out generator at the concert venue delayed the show by ninety minutes. Can't be certain but it was rumored that it'd been struck by lightning. Heart shortened their show for the sake of Def Leppard, the headliner. The crowd let out a collective groan with this announcement as did I…I wanted to see Heart! What I did see impressed me hoping that I'd see them in a full show some time in the future. With Def Leppard as the headliner, I was expecting the crowd to be mostly men with excess levels of testosterone carried over from their youth. Surprisingly, there were many women that I'd guess to be there to see Heart. Def Leppard put on their usual excellent performance. Sitting directly under the speakers, my ears didn't stop ringing well into the next day. No emails…I know I'm getting OLD!
The one really nice thing about travelling by car was that I could take anything I wanted and not worry about anyone searching my luggage. I stayed near the Atlanta airport, corporate home of Delta Airlines. At lunch, I spotted a Delta crew eating lunch. I thought about introducing myself as the one whose luggage they lost but they wouldn't recognize me. I'd blend in with the billions of others who had been in the same situation. It's often best to leave sleeping dogs lie.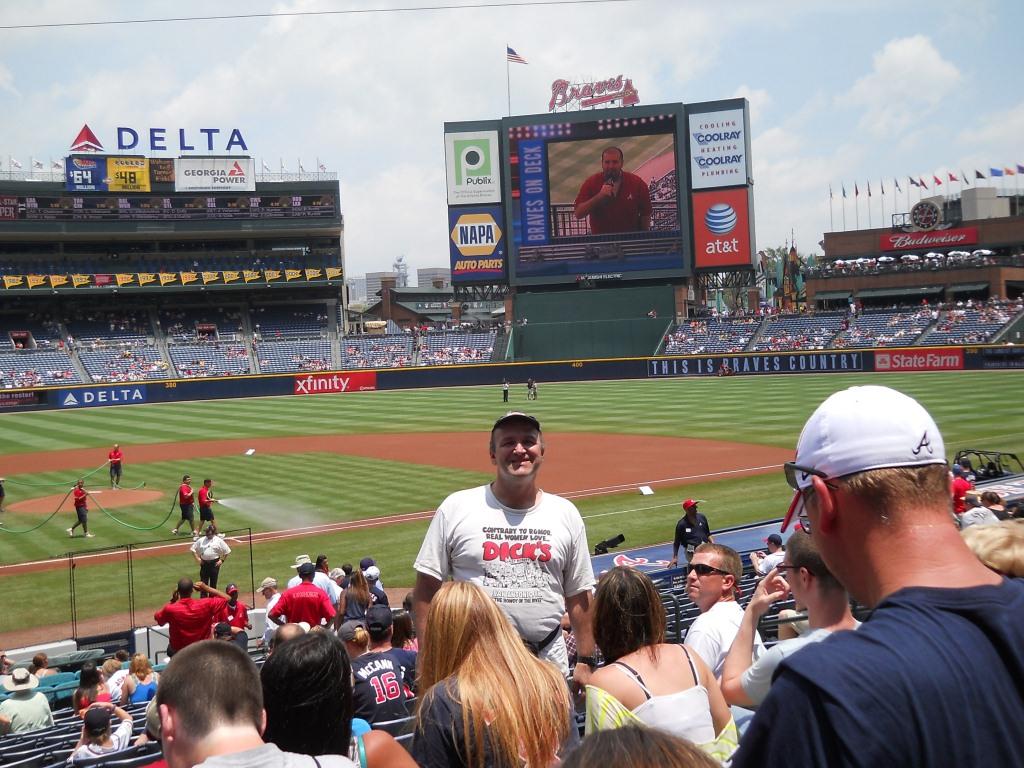 The rain from the previous day lingered making the 95 degree temperature even more miserable for the Braves game. It was Father's Day and there were many families with young children there bearing with the heat. I took as much heat as I could leaving in the fifth inning…my head wasn't doing too well with the heat. The Braves were winning 3-1 when I left with the final score 4-2 over the Texas Rangers. Note to self; stick to the night baseball games.
While in Birmingham, I did see one Barons baseball game. It was Memorial Day and the National Guard did a moving reenactment of the taking of Iwo Jima.
One of my favorite bands, the Bellamy Brothers, have a line in one of their songs, Hillbilly Hell, stating that they were in hell and one of the reasons was that they hadn't sung a song with Willie Nelson. Well, I hadn't seen Willie in concert either until just recently. He had a small band for a small show but put on a heck of a show.
More concert action; Bob Seger, John Mellencamp, and Sheryl Crow. All were excellent. I've been a Seger freak for nearly forty years and a major Mellencamp fan since my high school years. I wasn't disappointed but both could have added an hour to their shows and still not have played all of their hits. Mellencamp was kind enough to give a free download of his new album to those who bought tickets…a first for me.
James Taylor came to Birmingham…a first for me to see him. My nephew had a Facebook post regarding his trip to see JT in Omaha which made me jealous. The legendary Mr. Ed and I had bought tickets many years ago only to have him cancel due to exhaustion. We had a similar experience with Mellencamp that same summer. To borrow a phrase from a Bud Light commercial, it took me two Sherpas and a mountain goat to get to my seat for JT's show. For a c-note, it was too much money for the pathetic seat…scratch JT from the future concert list! I'll stay home and listen to my JT albums.
This is a plug for my sister who's getting into the quilt business in Omaha (HTTP://www.quilt-works.com). She's got some sample photos of her work. You can supply your own ideas as well. You can email her at Gigi@QUILT-WORKS.com or call her at (402) 305-8073. If you want a quilt, she'll do it for you. She made one for me using some jpg photos from my collection. She can do it from t-shirts or sweatshirts if you need some ideas.
2011 was the first year that fireworks were actually legal in Omaha. The sky was lit up quite well both on the third and the Fourth of July. We had an informal gathering around my sister's pool.
I went walking around the neighborhood and saw some neighbor kids launching their Roman candles on the roof of their neighbors across the street. Yes, they did have parents watching. I just shook my head in wonderment. Some actually invested in professional grade fireworks which lit up the sky quite nicely. Ma and the one of our neighbors went on a tirade about another neighbor blasting off some really large explosives…from an examination of the suspect wrapper I'd guess they were the equivalent to a stick of dynamite. A week after the festivities, some never bothered to clean up their spent fireworks…growing pains I guess.
While this fireworks spectacle was impressive, I tell everyone my fireworks display will be saved for Chinese New Year. During Chinese New Year, the fireworks go on all day for weeks on end like a constant grand finale to a fireworks extravaganza. The stuff Americans shoot pales in comparison to Chinese New Year. Here's some photos taken in Beijing back in 2008.. I'm sure I'll see something similar in Guangzhou.
Packing and unpacking was/is a real pain for my fourth assignment in China. I'm finding the actual process of packing and getting to the airport is eroding my enjoyment of international work. Once I get in the airplane, life improves. Simply stated, trying to fill an apartment with four suitcases of checked in luggage requires some real skill and prioritizing for me. When you get to the airport, it's too much. When you land, it's not enough. I have choices…save up my money for a private jet or give up international work…neither sounds possible at the moment.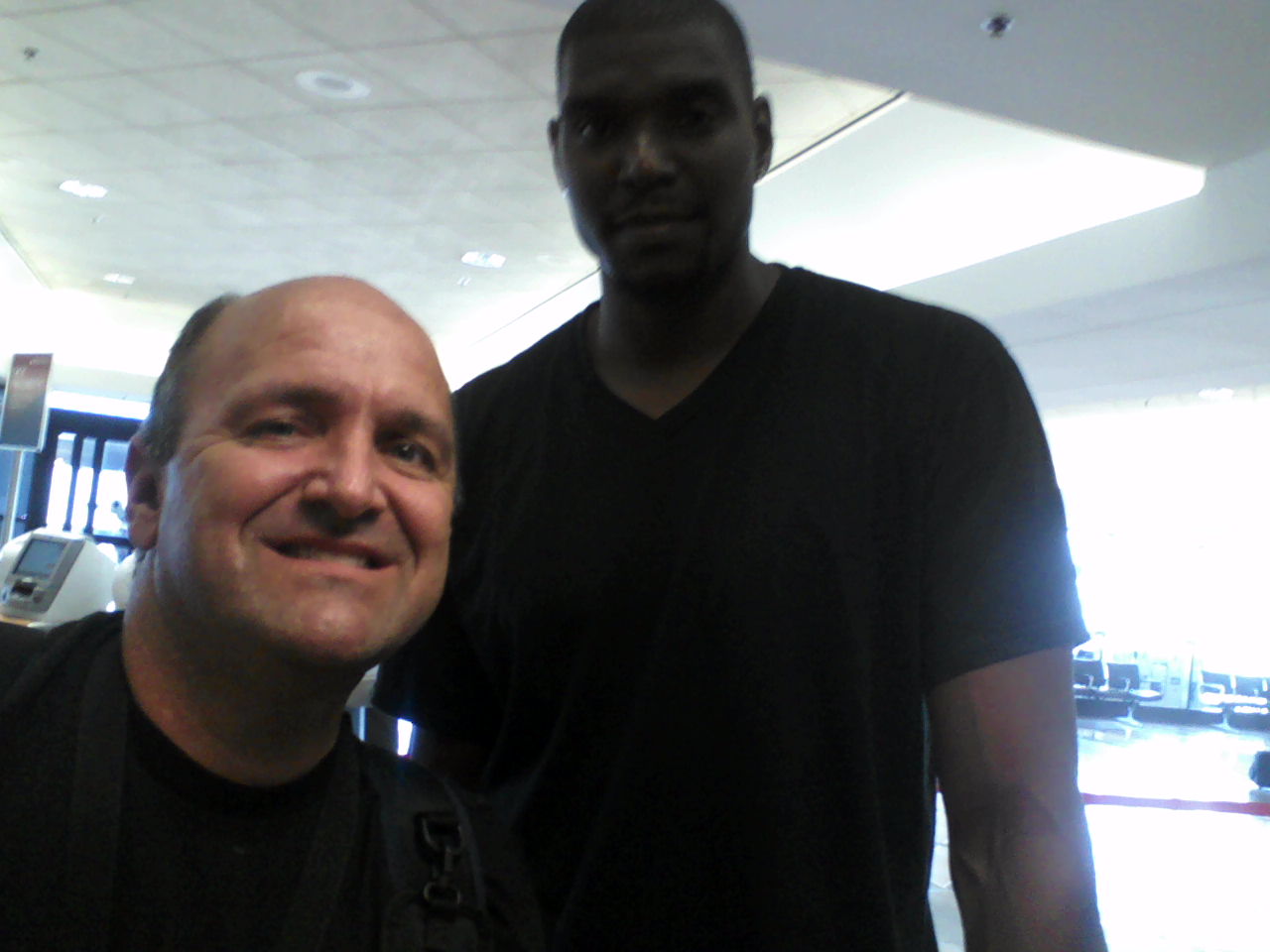 For those followers of the NBA, in the photo to the right, you'll see me with Andrew Bynum, star center with my beloved Lakers. I had better cameras but didn't want to pull them out in the airport. Andrew was ahead of me in line at Delta at LAX. He started posing for photos and I entered the line. I didn't ask him why he blew his temper and got tossed from the last game of the Dallas series where they lost to the eventual champions. He was cool and was very receptive to the impromptu group of fans who learned of his presence. Andrew was the barometer of the Lakers this season. When he did well, so did the Lakers. When he faltered, so did the team. The plus side of the relatively short season was that the Lakers got a chance to heal as will the NBA lockout. I had to send this pic to a couple of my nephews and a fellow Lakers fan…just to stir up some jealousy.
First observations of Guangzhou...I got off the plane and the first thing I noticed was the humidity inside the airport. For an airport serving a city of 15 million, Guangzhou's airport could best be described as primitive. Temps are moderate but the humidity and rainfall can be stifling. Thank the rain for reducing the pollution. Otherwise, the skies would be as smoggy as Beijing. I haven't noticed the pollution coming anywhere near what I experienced in Beijing even when it doesn't rain. I'm in a newer section of town and it's so quiet...nowhere near the street noises I used to hear in Beijing though the two cities are similarly sized population-wise.
While I haven't ventured out much, Guangzhou doesn't seem to be historic like Beijing.
My company furnished apartment is quite nice though the kitchen is small. The maid comes twice a week. There is a small gym with new equipment. There's a lot of cardio equipment but not many weight machines. The compound itself is quite large with a number of upscale shops and restaurants. Exotic cars (Ferrari, BMW, and Mercedes) are sold in the commercial sections of our building. Halfway between the apartment and the office sits a Bentley/Rolls Royce dealership. We have a Costa Coffee and Circle K in the compound. There are a number of retail establishments in the neighborhood. The subway is a short walk from the complex. Another subway stop borders our office. Word has it that when the lease expires, I'll be moving to another building that houses the rest of our crew.
The local Ferrari dealer had a concrete mixer truck parked outside his dealership for several days. One of the folks from work gave me the background story of the truck. One of his customers bought a three-million dollar car, drove it for a few weeks, decided he was unhappy with the car and tried to return it. The dealer refused to accept the returned car so he unhappy customer parked the truck in front of the dealer's door, removed the key, and went on his way. His first attempt was towed away so he repeated the process with another truck. Rumor had it that Prince Andrew was coming to our neighborhood but may have his security advisors may have been discouraged due to this security hazard. I don't know how the story ended but the trucks are gone.
Once someone showed me how to use the subway, I was good to go without further assistance. The parts I've seen have been new, clean, and relatively inexpensive to use though they're crowded except during off-hours. It beats taxis cost and speed-wise. The older generation is a small minority for the subways. It's only the youth.
We have a company furnished bus that takes us to and from the office though I generally walk home in the evening. One fascinating event that happened to us as we were riding to work on the company bus was a male clad in shorts lying on the center line of a two lane road (both lanes going the same direction) perpendicular to the direction of traffic. We were clueless as to what inspired his actions. We don't know if anything happened to him or the vehicles on the same road after our bus drove around him.
Here's a link to the Guangzhou Cathedral. They have Mass in English. Like the Beijing Cathedral, it's crowded with no AC. They've mounted several fans to the columns and their noise is a huge hearing impediment. The sound system and the acoustics of the church don't enhance the situation. Your neighbor in the pew always tries to convince you he can sing louder than anyone in the congregation. The late comer seems to believe that despite you being elbow to elbow in the pew, there's always room for one more. I took the taxi but defaulted to the subway once I learned the location. I took several photos on the outside and one on the inside before I was told I couldn't take inside photos. Ma advised me that I'd do better watching Mass on TV so I gave up the journey to the Cathedral.
I've found a decent Mexican restaurant but it's a long haul from my apartment. I'm hoping they reopen the Indian restaurant in my compound. Good burgers aren't hard to find...something besides McDonalds. A barbecue restaurant recently opened near the office.
Most of the McDonalds are open 24-7 serving breakfast and latte at their coffee bar. Yes, I still use the idiot menus to point to what I want. McDonalds even delivers your food...on a bicycle. Pizza Hut and McDonalds bicycle delivery men are the only Chinese who actually wear bicycle crash helmets.
When I first came to China eleven years ago, one USD got you eight and a quarter RMB. Now, one USD gets you six and a half RMB. No matter what they say on TV, the world financial market is slowly addressing the devaluation of the dollar.
I don't have a decent sized wall for my projector so I use the big screen TV (42") furnished with the room for the Slingbox. Internet is slow during the day so I watch TV at night.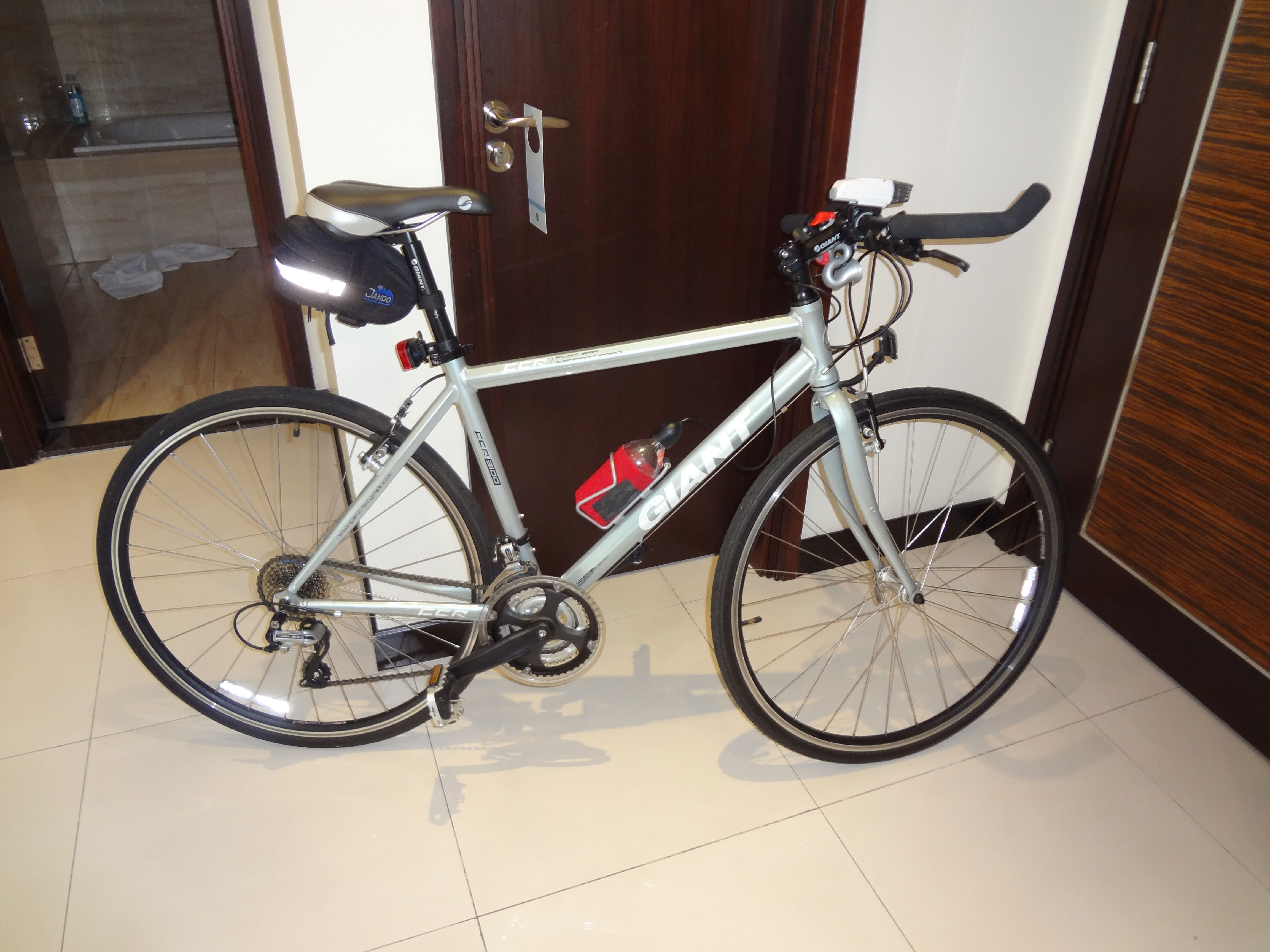 After I got my bearings, I headed to the bike shop. I brought lights and other accessories from home. I've been mapping points with my GPS to assist me in navigating though that hasn't been easy. It takes a long time for Martha's cousin (my wrist mounted GPS) to lock on to the satellites but the smart phone locks on quite quickly. I don't have a long route for riding. I usually ride before work.
Though I bought new lights before I came here, I've seen bikes with comparable lights to mine. Those that ride when I do are on their way to work.
There are some really cool, architecturally, buildings near the office. Apparently, the Chinese hire outside designers to conceive the exotic structures. Like the UAE, these fascinating structures are best viewed at night. I've posted pictures of them to show you the comparison between daylight and night time views.
Looking something like the stealth bomber, check out my photos of the Guangzhou Opera House.
Our apartment compound isn't far from the Pearl River. Though scenic, it's quite polluted that smells like the nasty smell of sewer gas...typical for most waterways I've encountered in Beijing.
Like Beijing and the Olympics, Guangzhou recently hosted the Asian games so that was a good reason to clean up the city. There's a gorgeous stadium built for the games with lights that are fantastic to view at night. It was built for one night. The tragedy is that this stadium will be torn down.
First impressions...there's a whole bunch of wealth around here...I haven't seen too many low income people here. They actually give you silverware in lieu of chopsticks in the restaurants...by default! I've seen lots of couples with two children. The one-child policy has loopholes such as you can pay to have more than one child. These folks can afford the fee! I've seen two plastic surgery establishments...one within a stone's throw of my apartment and the other not far from the office.
I was advised that they don't barter here...first price is the only price. The computer stores here are like the ones in Beijing...only good if you need something. Stores last as far as the eye can see seeming blending into one huge monster where they all sell the same stuff. The stuff that's made and sold here is a few notches below the level of the stuff they make here and ship outside the country...knockoffs, substandard quality, and/or blemished products sold at a 'discount'.
It took me a while to find a gut bomb vendor. His product was different than the video. He bought the tortilla rather than make his own out of batter. Wieners, an option under the original plan, were standard. I found them for sale as I was exiting the subway during rush hour. I bought two. They were so hot, temperature-wise, that I barely tasted them going down. It's better to wait a half-hour or more after you buy them. After I finished my shopping, I was tempted to go for one more but my newfound diner was gone.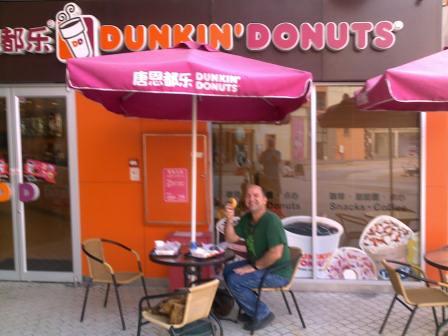 In my last couple of assignments, I got spoiled working only five day work weeks. Well, I'm back to six day work weeks. I knew it would happen when I signed up for this gig and I'm living up to my word. Upon my early mobilization to Guangzhou, our mantra has been the old Dunkin' Donuts slogan, "It's time to make the donuts". The character was an donut maker for Dunkin' Donuts who would see himself going to work as he was going home asking his other character if it was time to make the donuts. For those of you too young to remember, go to YouTube and look it up. We feel like that going back to six day work weeks. As a joke one time, I gave my friend…what else…a donut. Chinese donuts, like other sweets, aren't as sweet as the American donut. We got rumblings about Dunkin' Donuts a few hours from here but that was too far for us. I searched the web for local franchises only to come up with nothing. An associate said there was one and he had a business card he'd give me to boot. Now, we're in business! To make a long story short, the following Sunday, we hit Dunkin' Donuts and we were in HEAVEN! It was no longer time to make the donuts. It was time to EAT the donuts! We had them in Beijing but they didn't have the significance they do now. They were a bit less sweet than the American version but they were still very good. We did avoid the pork shavings donut…something I'd guess is exclusive to China. I've made a few trips both by taxi and subway.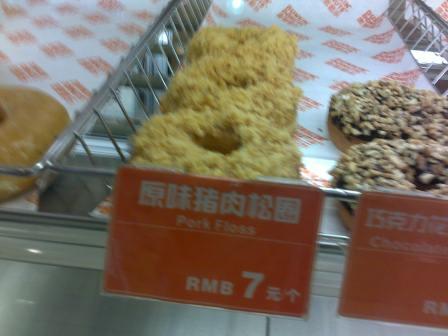 My neighborhood is full of interesting people and faces. I see them when I walk home from work. It's really rich. It used to be a fishing village that's been converted to a neighborhood of high rise apartments. Those land owners that waited longer to sell their land got more apartments in trade for swapping their property than the early birds. Some became multi-millionaires (Dollars not RMB) over night. Like other generations, the young seemingly go about their business not having a care in the world. The older people don't act like they're wealthy but they are. You can see it in their faces. Guess it goes with the generation. Wish I spoke the language because I bet they have some interesting tales to tell.
Getting closer to my apartment is a corner where folks who are looking for work stand with signs advertising their profession and a contact phone number.
There's a produce market complete with live animals and seafood for sale...can't get much fresher than that but my meats have to come refrigerated or frozen on a Styrofoam tray or they're not natural to me. They're all buried inside one large building where they're out of site and out of mind.
We have more structures going up in the neighborhood. Right across the street is the police department. We have another one on the next block over.
There are several open air shops and a couple of sidewalk bicycle mechanics (one with a lazy eye that gets your attention alone). His shop borders the area were folks are playing board games or cards…a real community. I've befriended a woman's dog…a pug who's a sucker for attention.
One of our subcontractors came into town for an extended stay. I took him on a tour of the neighborhood. He fully expected to see those "poor, starving Chinese". He was totally astounded as to the wealth that exists here. I took him to a neighborhood restaurant. I started ordering interesting stuff from their one English menu fully acknowledging that if I was forced to replicate my order for dinner that night, I couldn't. The Chinese don't let anything go to waste…like chicken's feet or beaks or duck head. We were chewing meat off the bones of some animal. Sometimes, not knowing is better than knowing when it comes to food. Stick to the 'tastes good' policy.
We worked Thanksgiving Day but got a two day weekend. Was hoping to do Hong Kong but my old boss asked me to come stay with him in Shanghai…didn't need a second invitation.
I remember a story on CNN that it's a lower cost to the airlines if the passengers spend more time in the terminal rather on the tarmac waiting for take-off. The American airlines could take a lesson from the Chinese. I took the subway to the airport after a day at work that seemed to last forever. The Chinese don't have much of a boarding process. When the single announcement comes, it's a race to stand in line to board and find your seat…no process other than taking your ticket. I thought the flight was late but we all rushed to board at the same time and made it to Shanghai on schedule. I didn't see any medics called to the scene.
I asked for the dollar tour and that's what I got. We took the subway and a few taxis and we hit the highlights. The new, trendy part of Shanghai is the Pudong district. Before the Burj Al Arab was built in Dubai, Shanghai had the tallest building in the world. They're working to get back the honor. They had a cool observation deck on a radio tower that one of the guys suggested. Like most tourist traps, it had a long wait and a hefty price so we found a nearby hotel that was taller. We went to the 87th floor and drank beer and coffee for cheaper and looked out over Shanghai. We walked the river walk of the famous Bund…the Huangpu Jiang River originally in a section of the city occupied by the British. Off to the Yu Yuan Gardens…a narrow section of two reminiscent of old China but modernized to become a tourist trap/shopping area. We traveled through the French Concession…one of the last areas that wasn't a dominated by high-rises.
The second day…shopping and Hooters. For the long time readers of the BLT, you'll remember they had a Hooters in Beijing. I recognized some of the faces of the pictured girls from the Beijing restaurant. Some of the staff (cooks and waitresses) was sent from the Shanghai restaurants to train the Beijing staff.
My impression of Shanghai is that the Chinese got so lost in modernizing that they failed to preserve their past. I didn't see much in the line of historical China and that's bad. Not all is lost. There is some effort to preserve what's left…no doubt to the consternation of the developers and land owners hoping to make money off of their properties.
It took a long time for winter to arrive in Guangzhou. While it was winter at home, Each time I called home of late, the word "snow" entered the conversation. While we haven't come close to freezing, the mercury waits for the weekend to plunge.
When I was in Shanghai, Christmas music was piped over the P.A. system. I've started calling China the new North Pole. Think about it. Isn't this where Santa and the elves now live? Isn't about all your stuff made here in China? I bet Santa got tired of the snow just like the rest of us.
Our complex went full out on Christmas lights. Check out my photos. To kick off their new display, our complex had a Christmas party. I wasn't there long as I was on a photo mission and I never replied to their invitation. My dinner was in the oven anyway. They had a choir singing carols…I even saw the early stages of someone donning the Santa suit. Yes…in a communist country, they've adopted another Christian celebration. Valentine's Day (St. Valentine's Day) is absolutely huge in China. I'd guess it's lost any Christian meaning much like my home land.
Hong Kong is in the works for Christmas. I've booked the room for Christmas Eve. It's a two-hour train ride from here. I've tried to get others to go but not having much luck. Out of frustration, I'm going on my own…but that's next year. The Chinese are probably celebrating a bountiful revenue generation. Usually, they just leave the decorations up for Chinese New Year.
New Year's Eve…another 'cliff-hanger' for next year…
2011…lots of change but not much in the line of excitement. 2012…I hope for the converse but I know it'll be the same…stay tuned for the whole story right here in the BLT.