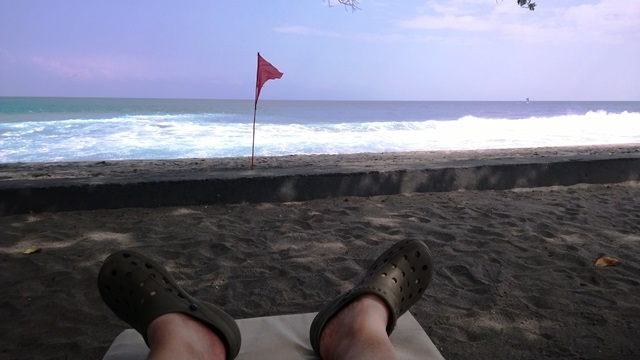 If any of this looks familiar, it should. Run...hide...but not before you've read the bestest edition of the Bluelou Times...the annual edition.
Yes, I'm still in Jakarta. My life is like the weather; wait five minutes and it will change!
Thanksgiving 2012 was spent in Helsinki dining on cheeseburgers. No turkey dinners were found at the local restaurants. Thanksgiving 2013 wasn't going to be a repeat if I had my way. A fellow colleague who ate the same cheeseburger in the previous year had the same goal as I. Perhaps, turkey legs from the crock pot with potatoes and carrots served with canned gravy and McDonald's style apple pies isn't traditional Thanksgiving fare back home but it was paradise for us. We had salad, Haagen-Dazs, and a cold-frosty-beverage to top it off. I even had some NFL games we watched from back home.
We repeated this exercise for 2014 but I had a couple more diners. For 2014, I did find some restaurants that did serve turkey dinner but I'd already issued my invitations and what money I spent for four dinners was considerably less than one meal at these restaurants. The only complaint I had was the one invitee who couldn't make it. Perhaps, if I can find all the ingredients in whatever location I happen to be located, it may become a Bluelou Tradition.
There were some Christmas decorations in Jakarta, mostly in the shopping malls where the rich expatriates shop. Santa had some mall time with the kiddies. I saw many locals posing around Santa images and inside his workshop when he wasn't there. I wonder if they truly understood the significance of these decorations. We had traditional Indonesian fare for our Christmas party. I had a few well-wishers for me on Christmas Eve. I was moved. If you listened, you could hear Christmas carols playing softly. It seems ironic all this for a country that's predominately Muslim but when you're struggling for the big bucks, you need to cater to the expatriates.
The 2014 company Christmas party was held at the same restaurant as last year's Christmas party. It was combined with the Company Owner's visit. Call me Grinch but I'm not much for company parties as we see enough of each other during the work week.
Christmas 2013 and New Year's 2014 were very low-key for me. I had a food feast. We had a day and a half holiday for each. I put away my two Omaha Steaks I'd been saving for a special occasion.
The low-point of my Christmas 2013 was at Christmas Mass when the priest interlaced his homily with rock and roll clichés and then wrongly gave credit to Michael Jackson as being the songwriter for "We Are the World". He then had the choir sing it with the congregation. The priest had a gleam in his eye but I had nausea in my stomach. Ugh! FYI, Jackson co-wrote the song with Lionel Richie who's generally given the bulk of the credit for writing the song.
My holiday tradition for the past many years has been calling friends and family back home. In early conversations with the family, I thought they were going to have Christmas on Christmas day when I'd be at work. Nope, I called their time Christmas Eve and caught them in the act...bull's eye!
For New Years, I was told it was going to be a spectacular fireworks display. Frankly, it couldn't compete with Chinese New Year in Beijing. Jakarta started building the stages for the grand celebration two days beforehand. As I was walking home on New Year's Eve, I detoured through a bordering shopping mall as I couldn't take my usual route home. I wondered if there would be fireworks as we're in the middle of rainy season and we'd seen our share of rain that day. I awoke at 2359 and went to my balcony for a peek. It was impressive but it didn't compare. I went back to bed at 0005...Some party animal! I caught up on my NFL.
Jakarta seemed abandoned between Christmas and New Year's. Stores were open with few customers. I worked. It's my busiest time of the month.
I did get to see my Huskers avenge last years' defeat to Georgia. I thought for sure we'd have another loss to chew on until fall. I prepped the boss that I was going to be late to work on Jan 2. The game came on at midnight here. I awoke at 0300 to catch every down. I was surprised that I made it to work on time. This bowl season was super sweet as the SEC showed they don't walk on water as they think they can and I work with a lot of SEC grads.
Like the rest of the Husker fans, I was shocked to awaken to discover our football coach was terminated. How can you terminate a coach after a 9-3 season? Three days later, I was equally amazed to find out he'd been replaced by a coach whose last season was 5-6.
The Super Bowl played while we were at work. The boss offered to let us watch with the client but we wouldn't see the commercials. I've had a few of my beloved Husker game results spoiled by seeing the results on the internet so it took every ounce of strength to stay away from sports pages and news wires that day but we managed to avoid the outcome of the game. An associate and I bought pizza and beer and watched it after work on my Slingbox on my big screen TV. It was a great idea for a not-so-great game. I think we've heightened our expectations for the commercials to levels that the advertisers aren't even going to try to meet. Well, they hit that level.
I saved my Facebook account but in order to do that, I ditched Linked-In...priorities. I hope I don't need my Linked-In account. You can email me or search for me on FB if you want to connect.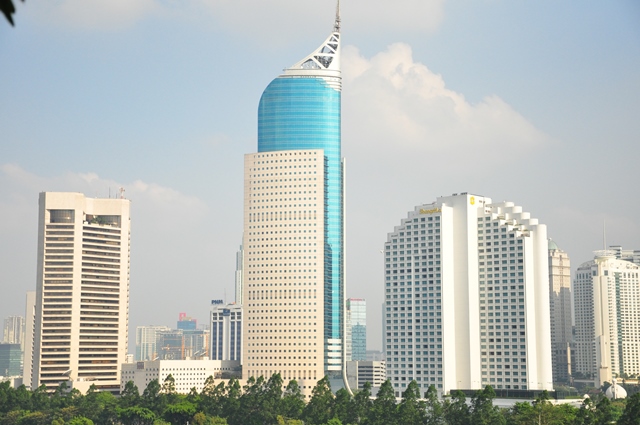 I've posted more photos taken by a colleague from around the city of Jakarta. I hope you enjoy them.
Note that the January trip to Djibouti I wrote about in the Best of 2013 BLT didn't happen. The Helsinki project wanted me back for a short visit on the return trip from my vacation. That didn't happen either. Helsinki in the winter...been there...done that...no desire to repeat.
Jakarta has a major Asian influence so Chinese New Year is big around here. I asked a few folks who said the fireworks would be on the same level as New Year's Eve. I expected to see the same volume of stages decorating the road I take to work but that didn't happen. To avoid paying triple time wages, we gave our locals the day off but the expatriates worked the Eve as well as Chinese New Year as if it were a normal work day. In Beijing, the fireworks went on day and night for a month. I heard a few firecrackers go off as I was walking home on the Eve. One of the client's staff is staying in a local hotel and he said he didn't sleep much due to the fireworks around his hotel. Again, me the party animal brought in this occasion with my eyes closed. I heard some fireworks but rolled over and went back to sleep.
Early this year, we swapped one of our Jakarta staff for one of the Laos staff. Both are married. One has children. The one from Laos sent here stated the same thing for the one he replaced...unlike Laos, there doesn't seem to be much time out of work for other things in Jakarta. The one who left here for Laos left for that same reason. I've been in Jakarta for a year. I've noticed the same lack of personal time but that's true in this business, working six-ten hour days leaves you with little personal time.
Combined with the traffic, the big issue for those expatriates with children is schooling. The nearest one had problems with several of their staff sexually abusing the students. The replacement staff, I'm told were less than ideal so the students have to commute at least two hours to school.
Winter time back home is the rainy season in Jakarta. The company gave us rain coats and large golf-type umbrellas. I haven't worn raincoats as I end up looking as if I hadn't worn one anyway but the umbrella is a constant travel companion even with the emergency umbrella I carry in my backpack. I've developed a system where the big umbrella is kept at home and the office. I look out the window and if it's looking like rain, I take the big umbrella.
Otherwise, if I go out without the big umbrella and get caught in the rain, I still have the backpack umbrella. Like the home office in Alabama, an increased chance of rain has nothing to do with the probability of rain but the longevity of the rain.
My personal, non-scientific, view is that the frequency of rain seems to have remained the same but the quantity has increased significantly. For January, we had over 31 inches of rain on our job site rain gauge. That's twice the average for Jakarta in January. In February, we doubled the average again with slightly less rain, ten and a half inches. I don't normally watch local TV but I did see a few news segments showing flooding around Jakarta but I didn't see it in person.
I just walk through the downpours on my way to and from the office. One particular day, I got soaked through and through including my feet. I have a watch that's supposed to be water resistant up to 100 meters. It had moisture inside. After cleaning, I can read it a bit easier but it took a week after the jeweler removed the water from the inside for the buttons to function somewhat properly. If it doesn't work in the rain, it shouldn't survive at the promised 100 meter depth. I took it scuba diving and it survived at 20 meters (62 feet). A second walk through a downpour killed the watch. The boss' wife hand-carried another one to me. I believe the wrist watch is a casualty of the cell phone era...same as the iPod. The casualty list of the smartphone continues to grow...
Even after the rainy season is gone and the rains have diminished, it's still not smart to leave the home without at least one umbrella. I keep a spare in my backpack. The constants here are temperature, humidity, and about eleven hours of daylight. If it hasn't rained, the sun gets intense and the locals complain about how hot it is. When walking to and from the office, I bring shorts and a t-shirt and wait a half-hour before I change into work attire.
I've added pictures of some of the currencies for Laos and Indonesia. It took me a while to figure this out but the metal strips in currency wreak havoc on scanners and they can't be scanned on a normal scanner. I had many more bills to show you but I couldn't scan the ones with the metal strips.
I was able to fly home in February and September. Because I postponed my bucket list dive trip to Australia, I took a full two weeks off to go home for both visits. It seems long at the start but short when it ends. That's the best kind of trip.
When I say the trip is long, I can back it up. One way, the distance is over 11,600 miles. Without bonus miles, a round trip comes pretty close to completing my mileage requirement for Delta's Silver Elite. I still have to fly a bit more with them as they've upped their requirements to either more flight segments or more dollars spent. If all goes to plan, my continued elite status should come on my next scheduled trip home in September. The flight home was 35 hours. It was in the early stages of this trip that I seriously questioned the practicality of my trip. Many times I've flown this route and it doesn't get easier. I don't know how my bosses fly over a million miles in a year.
In February, I had a 13 hour layover in Amsterdam so the return trip was 47 hours...just an airport hotel to rejuvenate...no trips into Amsterdam for fun. The hotel I wanted to stay in was closed for renovations so I stayed in one I'd forgotten about staying in back in 1996. I remember it was small, but not this small. They've made it into a theme hotel that they sold as a space ship. My single room barely fit the concept of a room. The bathroom was barely wider than the toilet including sink and shower which wet the sink when turned on. The length of the bathroom was a bit longer than the length of the bed which resembled a lower bunk of a submarine. When you're jet lagged, you really don't care. At that point, I felt very much like a space cadet so I fit right in.
Ma's brother gave her a computer. Ma calls it a 'typewriter'. She wanted me to teach her to use it...I've always held the proviso that I can teach anyone to run a computer so long as they don't ask me how it works. We take cars for granted not knowing how they work, take it on faith with a computer...but I gave up without trying knowing I didn't have enough patience (or vacation) to climb that mountain. When I went home in August, I moved the 'typewriter' off of the dining room table to the basement. A subsequent email from my sister asked if I didn't mind if the 'typewriter' got donated to charity.
Food...that's where the February trip to Kansas City kicked in. KC is known for its BBQ and we exploited that. We hit my favorite pan-fried chicken restaurant, Stroud's. We hooked up with the infamous Mr. Ed for KC minor league hockey. Yes, KC has a minor league hockey team.
Most of my luggage was filled with food from back home including more steaks and lobster for the boss. I kept two steaks for me. Rather than buying the local substandard bacon or paying exorbitant prices for imported bacon (read $35 a pound), I brought back four pounds for me. I went into instant panic mode when I found that my dried ice, I bought the night before my flight, was a sliver of the original five pounds after I removed it from the freezer! It necessitated another trip to the grocery store and burned an hour I didn't really have to spare. To enter Indonesia, like most countries, you have to make a customs declaration. One of the boxes you check yes or no is if you have food. I check yes, hand the completed form to the agent, and keep walking. I'm sure the frozen foods, especially the bacon, would have kept the custom agent's attention until a suitable explanation was given.
While I had lots of work to catch up on, both at home and returning to work I had zero jet lag...not normal for thirteen time changes. I must have done something right.
One of the office girls asked if I had any photos from my trip...just the snow at the house...
For the record, I stopped celebrating birthdays a long time ago. I prefer to skip my birthday parties. If I'm the cause celebre, Amen. I'll do it facilitate a family get-together. I did buy myself a nice Bose Bluetooth speaker. One of the girls in the office wanted to have a joint birthday party as her birthday party was the same month. I passed but came up with an alternative. In lieu of getting presents, I bought the presents and party stuff for a local orphanage. All the effort was hers. My only proviso was that I remain anonymous. The money was the easy part. I'm not patting myself on the back...just hoping a few more folks might take up the tradition...and maybe, I'll do the same thing next year. The orphans gave me a whole bag full of Rambutan as a present.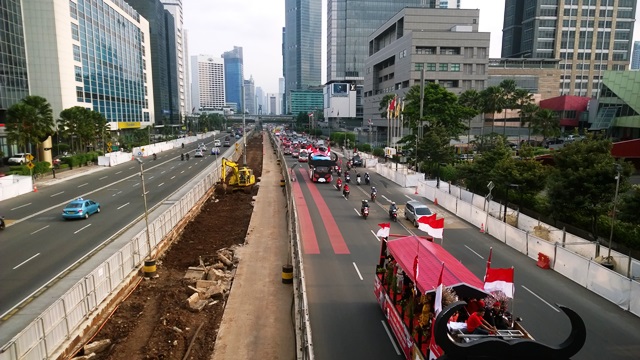 We found a Mexican restaurant in Jakarta. It's not far from the apartment. Food was decent as was the environment. Alcohol and pork were served. Our excitement was tempered as one of our party had his backpack stolen. He had all his credit cards, IDs including passport, and cash inside it. He said someone had tried to use the cards but he'd reported them stolen to his banks. One lesson I hope he learns is to leave the plastic and passport at the apartment. I learned this rule the hard way. Another associate paid his tab with plastic only to learn the same establishment had tried to recycle his credit card numbers. His bank caught it. Rule of thumb...carry cash and keep your belongs close to you... Leave your plastic at home.
March 31 was the primary Election Day in Indonesia. To make sure everyone has the opportunity to vote, it's a national holiday. One Saturday before the election, the boss let us go home after eight hours. An associate and I went to Mass and were walking home when we saw a huge parade of cars, trucks, and floats speeding along the main thoroughfare. These folks were involved in the presidential election. We got several photos. Here's a few.
The Indonesian general presidential election was July 9. One of my associates asked me to pick the winner. I had/have no idea who was even running so I picked Michael Jackson. He wasn't running so I picked Elvis. Well, if Elvis is ____ and Michael Jackson is _____, who would you pick? Ugh! PBS and CNN had some coverage of the election. I don't pay attention to the local media but it wasn't long after the election that both candidates were claiming victory. The election results...Elvis or Michael. Well, that came almost two weeks later. It had slipped my mind but I was reminded in an elevator ride by some acquaintances. The last election was 1998 and there was rioting. We were given contact lists, emergency radios, and sent home at lunch time with strong advice to stay home. Traffic was rerouted. Security was beefed up. The election results were postponed until after people were home and had their evening meal (post Ramadan fast) where they'd be less apt to go back out. The incumbent, Prabowo Subianto 46.85 percent (nearly 62.6 million votes), lost claiming election rigging to the president elect Joko 'Jokowi' Widodo 53.15 percent (nearly 71 million votes). I saw no evidence of violence.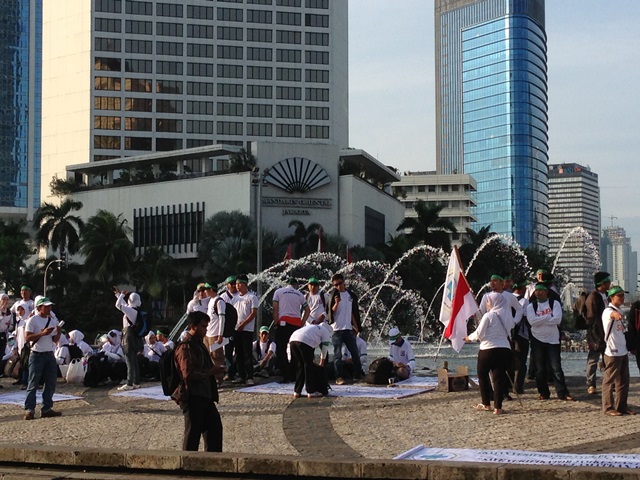 After the final election, we had many protests. It's hard to tell what the protests were about, either the election or the situation in Israel/Palestine. In my two decades of international travels, I've learned it's smart to avoid divulging your opinion in these conversations no matter whom you side with. In this case, I'm Sweden...neutral. There were a couple of protests that jammed up traffic even more during the evening Ramadan traffic...if it needed another reason to get worse. Hey! I'm all for freedom of expression including peaceful protesting. I just don't care for the fallout. The scooters were imposing their self-professed right to use the sidewalks as their freeway despite construction narrowing the sidewalks just wide enough for two-directional pedestrian use. During the conflict, the police have laid low but remained visible with many more uniformed officers out and about.
Joko Widodo, the winner, was the former mayor of Jakarta. A political amateur, he gained major popularity by moving the homeless tent cities out of the flood plain onto the financially more lucrative lots located on higher ground. He's the voice of the common man.
The loser, Prabowo Subianto, filed a protest over the results of the election with the Indonesian Supreme Court citing "widespread and systematic fraud within the electoral system". Similar to when the election results were announced, many streets were closed. Once again, a once friendly country was under siege from the unknown. Several inroads to cities including Jakarta were shut down. Many businesses closed early. The police gave ample notice that they'd be out in full force. They maintained a noticeable presence in public. The official number was 21,000 police officers were on duty. Traffic was crazy in Jakarta during the morning and afternoon. We worked our normal hours. I took some back alleys as everyone was afraid of rioting. While I walked home, there was an eerie silence. The streets were almost empty at 1800 save for a few food vendors, taxis, and ojek drivers who make their living from the rush hour commute. Shopping malls had barbwire barricades and razor wire blocking their entrances. One of my security guard acquaintances told me to go home. That's where I was headed. There were some reports of tear gas being used on some unrulies. TV crews were everywhere waiting to get the scoop on whatever was newsworthy. I didn't see anything. The next morning, all was normal.
The inauguration was held in a nearby park. As it would create traffic jams around our job site, we gave the crews the day off. We did witness many parachutists rehearsing for the inauguration. That was very cool. There were many demonstrations that day and traffic was a gnarled up mess.
I kept looking at a couple of English web sites for the local news. The Supreme Court, limited itself to reading only 300 of the 4000 pages of their decision. The announcement was made late in the evening finding Subianto's suit to be baseless.
While walking hasn't yielded to personal weight loss, it has lowered my BP because I don't have to sit in traffic that goes nowhere. Walking to and from work, I've been fascinated by road construction along the main thoroughfare. The guys said it was a subway system. Given the high water table of Jakarta and that the rest of the city has a ground level and elevated train system, I couldn't piece the details together in my mind. It's an underground and elevated transit system. If you look, there's a link for English translation or you can use Google's toolbar. It's also shown in the photo above at the left side of the photo.
I'm amazed at the quantity of legal holidays there are here in Jakarta. I'd swear there's an average of two holidays per month. For the purely business minded, it would be tough attracting business as they require triple wages on holidays. Here's a site I found for the 2014 Indonesian public holidays.
I passed my yearlong residence in Jakarta. I have to go back to 2005 for the last time I stayed in any city for that long. The Indonesians call it a "KITAS". It's a proof of residency for Indonesia. For the last one, I had to do a visa turnaround to Singapore...fly and return in the same day to get a passport stamp outside the country. This time, I had to turn over my passport and go get electronically fingerprinted and my signature scanned. The whole process took three weeks of living without my passport. I use my passport just for travel so it stays home most of the time. I felt kind of naked without it. Unlike the masses, we had a very short wait and walked right in. I have no idea how much it cost but it couldn't have been cheap. If you figure out the cost of flights to leave the country and the wage cost of not working, I bet it's not much more.
I have no clue how much longer I'll be here but I love every minute that I stay. I remember two specific occasions where complete strangers have asked me to pose with their loved ones. I don't know why. The security guards I see as I'm walking share a smile and a salute. It's a friendly place to be.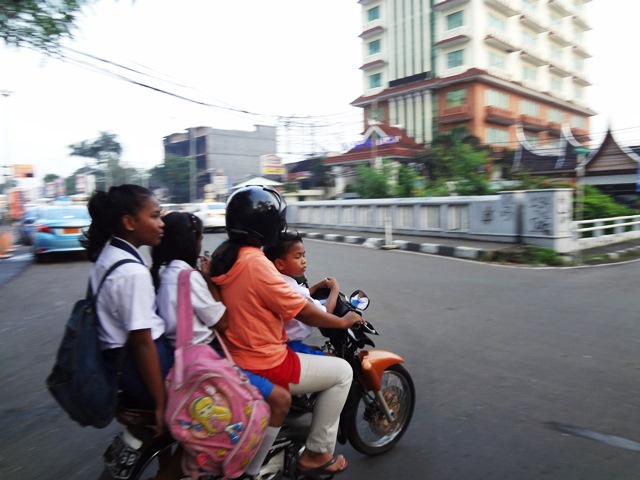 Ever since I arrived in Asia, I've been fascinated by how many riders the Indonesians can pack on one scooter. Trying to photo a four-headed scooter is about like snipe hunting...elusive. There's a school in my compound so there's lots of folk transporting their kids on the back of their scooters and that increased my odds of actually getting a photo. Like hunting, you must be vigilant. Even then, getting that perfect photo where everyone's in focus and the picture isn't blurry is a trick. As I walked to work, I was on the alert for the elusive four-headed scooter. The most I've seen on any scooter is Mom, Dad, and the three kids...five. I'm told the Jakarta police are stopping scooters with more than an operator and passenger as any more riders are deemed unsafe.
As it is now, the scooter operator is a menace to traffic. There are over nine-million people in Jakarta. I'd estimate three scooters to each car. The scary thought is that if everyone who owned a scooter would graduate to a car, the impact on traffic and the environment would be devastating. Way back in my driver's training days, we were taught about the two second rule. Here, they have the two-tenths of a second rule. Like most third world nations, a quick observation is that most drivers weren't taught by their parents to drive nor observe roadside courtesy.
My brother in law coined the term Chreaster for someone who goes to church only on Christmas and Easter. If you haven't checked out my Church, the photo is here. Inside, they can seat around 300-400 people. For the Chreasters, this same church adds canopies, chairs, and a closed circuit TV set up outside the walls of the Church that doubles the capacity to an estimated 800. They even hire security guards to check your carry-in bags...just like the shopping malls. The beggars come out in full force looking for that easy money from sympathetic Christians.
For Easter Mass, I played the early bird skipping the English service for the Bahasa Mass at 0700. Arriving minutes before the start, I found a seat inside the church in my regular area, underneath the AC, with no problem. I have an English copy of the Mass along with the readings in my smartphone so following along was no problem. Perhaps I may make this my regular Sunday routine. Unlike most Christian nations, the stores were open for business. The shopping malls don't seem to close for any holiday.
On May 27, 1994, I packed up EVERYTHING and gave away or sold most of my earthly possessions at fire sale prices or put them into storage and boarded a plane from Raleigh, NC to Atlanta. The city utility company cut my water off about six hours before my requested cutoff. Hung over, unshaven, and forty-eight hours on a shower and increasing, a friend drove me to Raleigh, NC where I flew to Atlanta. Next stop was Frankfurt Germany, Istanbul Turkey, and finally Ankara Turkey. The flights are a story of their own but that date is my twentieth anniversary for working overseas. While I was scared silly thinking it was the dumbest thing I'd done in my life, little did I know but it'd be the best thing I've ever done. Sort of like skydiving without knowing if that parachute was going to open or not, who knew? Not all of those years were spent overseas but most were. Take a look at the flags above. Every flag to the right of the Mexican flag represents one country I've been to at least once over those twenty years. Had a few things been different, I dare profess that my life would be really different from what it is today. To all of those who made this long strange trip an adventure, I offer you my simple but sincere thanks! As I've written many times before, the greatest resource of any country are the people. You're a part of what makes this job and my life so special. As the song goes...what a long strange trip it's been!
When I first got into the international construction business, I set goals for myself. I vowed to find something else to do after I met those goals. Over the course of those twenty years, I've exceeded the goals. Trouble is, I can't find anything that gives the overall satisfaction that working internationally has given. Sure, I'd love to find a job with less hours but I find I'll have to trade that off for something else. A lot of my associates feel the same as I.
For you folks on Facebook, this is a repeat but worth reading anyway. To celebrate my twenty-year anniversary of working overseas, I wanted to buy pizza for the crew. Every Tuesday, Domino's offers two for one pizzas so it's not too expensive. Even though I gave them a two-hour advance notice, Domino's came an hour late with NINE pizzas! I haven't figured this out.
Interesting story of my former project.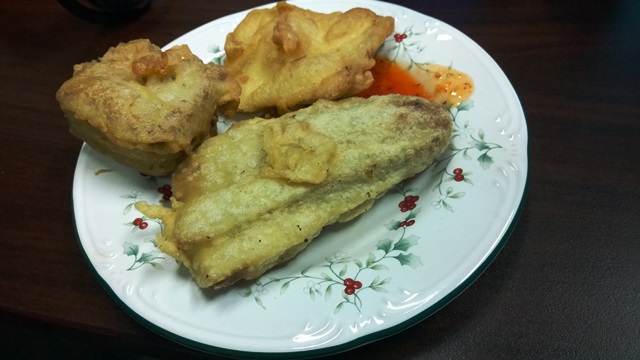 In the building where I work, there's a small café that serves breakfast and lunch. By law, Indonesian businesses provide lunches to their hourly workers. Besides our worker lunches, this restaurant caters to the businesses in the compound. In the photo to the right are just a few of the local cuisine selections they offer. At the bottom is a fried banana best eaten just out of the fryer with a bit of chili sauce (orange stuff on the right). On the left and at the top are tofu products. Total cost of the above...about sixty cents US. When I finish, I carry the plate to the hallway and set it on the floor. The restaurant comes to take the plate away. Rule of thumb is to get it while it's hot, It's so much better that way!
On the eve of Ramadan, I mistook the sound of fireworks for someone knocking on the door. Some misguided folks believe that fireworks at 0300 are entertaining. There was an eerie silence on the street as I was walking to work the next morning. The streets were almost empty.
It's hit or miss with just about every business regarding what services they offer during Ramadan. In Tunisia, I couldn't get pork on my pizza all during Ramadan. In Tunisia and Morocco, simply finding an open restaurant could be a challenge. In the UAE, we infidels could be arrested if we were seen eating during the daylight hours. We could eat behind closed doors. I went to Chili's here in Jakarta. I was told as I walked in the door and again as I sat down that they wouldn't be serving alcohol during Ramadan. At our Mexican restaurant, I ordered the local beer. Usually, I'm given a choice of tap or can. I had no choice. It came from the tap. The Irish pub across the hall from our Mexican place served our Guinness in a large coffee cup. Most street vendors remain closed during the daylight hours. Some businesses have reduced hours. A nearby Indian restaurant went buffet before 1830 when it offered menu service. We left as we had no desire for buffet food and we didn't want to wait.
In Jakarta, 1800 is recognized as sundown where food and drink can be consumed. For the first day of Ramadan, we worked a full day. After that, we went home an hour earlier.
In construction, fasting can be a hazard to the employee and those around the fasting workers especially in the warmer climates. In the UAE, fasting Muslims were put on the night shift so they could consume water and food. Even without physical labor, fasting during the daylight hours for extended periods of time takes a cumulative toll on a body. Sickness does occur because of the fasting. Doctors will order their patients to cease fasting. In the UAE, you could pay someone else to do your Ramadan sacrifices. I wonder if the Vatican is listening...new revenue raiser.
Abstinence from smoking is considered part of fasting. Nicotine is an extremely addictive drug. It's tough on the smoker. Most fail. Medication is part of fasting. Those that are sick can make up their fasting. Those on permanent medication are exempt from fasting.
Many of the locals do not fast during Ramadan. As I've professed, it's a moderately Muslim country.
During Ramadan, traffic is more insane. With businesses closing early and folks trying to make it home before dinner, traffic jams are worse. It's as if each day is the eve of a holiday. Trying to get a seat or served in a local restaurant around eating time isn't easy either.
I booked a trip during the Eid (post Ramadan). Last year, I flew home in a whirlwind trip. Even my doctors went on vacation (Hawaii and Europe) and that trip was too short. I flew home for the running of the doctors early September. I stayed at this hotel and dove with this company. I only booked a couple of days as I wanted to relax more and travel less yet still wanted to go somewhere. The hotel had a limited number of nights as well. I thought about Australia but I want to go diving and that's more suited during the end of the year or early next year.
The city is Lombok...one of Indonesia's 8000 inhabited islands. It's near Bali. For those looking for something to get away from it all, Bali isn't the place...too commercial. I was told Lombok was the place for diving. I hoped to book a Monday dive so I booked a 0550 flight. The girl at the apartment courtesy desk said there were no taxis at 0400. What good is a 0550 flight if I can't get to the airport? I called the taxi company myself. Paydirt! No sweat! The security guard had to wake the driver who chose to skimp on tolls instead of time but I made it!
My flight to Lombok was non-stop. As I booked my flights late for the Eid holiday, a peak travel period, I tried to go on the cheap...just under $500 for just over an hour of flights...not cheap. It was wishful thinking about the Monday diving but the hotel let me kill time hanging out in the shade on their beach reading and posting photos on Facebook to make the folks back home jealous. Here's a few.
My one dive day didn't start out too great. I'd booked the dive one month in advance via email. The dive company told me to be in the lobby of my hotel ten minutes ahead of their 0820 arrival. At 0830, I got nervous and started calling. At 0850, I finally reached a human. They sent a car and we drove a half-hour where I traveled by boat for another half-hour to the dive shop.
Nobody at the dive shop seemed to be in charge. It was their peak diving season. As part of the dive routine, your dive leader gives a 'pre-dive'...a safety lesson. It doesn't matter how experienced you are diving, safety procedures vary from location to location. My dive leader only told us what the symbols would be for the various species we'd be seeing on our dive without a hint of safety. I listened to another dive leader give his pre-dive so I was just under terrified. I was in it for myself. I've had over fifty scuba dives in my diving career. When I got in the water, my nervousness went away. To steal a phrase from golf, a bad day diving is better than a good day at work.
We saw a small turtle and a humongous turtle too. We also saw three sharks...an awesome dive. As I was flying out the next day and I don't care for doing more than one dive a day, it was my only dive. Two dives leaves too much residual nitrogen in my system and it's recommended to wait twenty-four hours after diving before flying which would make it too close for comfort for me. I hung out on the island watching the tourists and waiting for the other dive to complete so I could take the boat back to shore.
Dives were only $35 including equipment. I paid this when I learned to dive in Jamaica fifteen years ago. I got the local rate. Tourists paid much, much more for the same thing. I feel the dive shops could charge more but I was told the local dive shop associations got together and agreed on a price for all to charge. A slow, painful death by bankruptcy was their choice. This fee included my car ride to and from the hotel and the boat rides too.
If you navigate around the dive shop web site, look for Shark Reef off the coast of Gili Trawangan. That's where I dove. One of their dive leaders said this was their best dive site.
I was probably the only technogeek on the dive who didn't have a GoPro. Prices aren't too bad but I have little use for one. About every device I have has a camera; tablet PC, PCs, smart phones and a couple of regular cameras. The last dive I made before this was five years ago and I'm a still photography guy. I couldn't justify it but I bought one anyway...the GoPro White 3. Toss in an underwater lens filter, head mount, and bike bracket too...I bought the ( GoPro White 3...the low end one). I don't have much need for it except for when I go diving. Everything electronic you buy these days seems to have a camera and I have plenty of those. I have an app on the smart phone to program and control it. As sure as the sun shines, as I returned to Jakarta and hadn't learned to use it, they came out with a newer version just in time for Christmas. You can actually buy GoPro accessories in Jakarta.
I'm still yearning to do a dive on the Great Barrier Reef in Australia. It may be my last dive as I get too nervous before each dive. To round out the trip, I'm thinking about a tour through the rain forests and a few days in Sydney...sometime in January. That's my justification for the GoPro.
I had a cabin two buildings away from the ocean...doors closed...windows closed...stereo playing with AC on...I could still hear the roar of the ocean.
While my beach days are over, the hotel had a huge tree to hang out under. That was my spot.
The hotel is new to the island, only two years old. Some of the cabins were still being finished on the interior. The manager said they'd had a "soft, soft" opening. Unlike Bali which is a great source for people in the tourism industry, Lombok is a new player to the game and experienced people were not to be found. They were enthusiastic, friendly, well trained, but still inexperienced. I believe that if they'd simply write down your instructions on a piece of paper, half of their troubles would go away. The hotel was a great place to relax and get away from it all. If you're looking for night life, go to Bali. The guys at work don't have a good opinion of Bali so I made the right choice for me.
My last day...a massage to hit the airways. I can't get used to the mesh underwear but I wish I'd booked two hours instead of the one. I should have scouted the flights better as I had two flights back to Jakarta but there was a non-stop leaving to Jakarta just as I was boarding the first leg of my flight.
Bottom line, I may just come back to the same hotel and dive with the same company.
I booked my trip home for September including vacation request, flights, and doctors' appointments. A trip to Vegas was in the works. Then, like clockwork, my nephew announces his engagement on Facebook. Details on the wedding were sketchy at first and then they firmed up quickly...October. At the prodding of a sister, I tried to rebook EVERYTHING! Unfortunately, one of my doctors was booked through January. I could go to a local doctor or one in Thailand or Singapore but I have history will all my doctors and they know me. They might find something a new doctor wouldn't notice. It gives me a chance to go home for a visit family and friends. I'll have to do this wedding in absentia. I just didn't have enough notice to work things out. No, the trip is just too far to make two trips home in less than a month. Usually, I can work out the details but the couple wanted a short engagement and I couldn't make things happen.
My sister pointed out that this same doctor was in a nighttime motorcycle accident that left him in critical condition at the med center in Omaha. He hit a deer. His son was following along on the motorcycle behind him and struck my doctor who hit the deer. His brother was a passenger that was also injured. The story was in the newspaper. Doc has no associates so I was screwed. Luckily, one of my doctors pulled some strings to get me into another dermatologist. Now, the injured doctor does have a sense of humor and I was thinking of the razzing I could give...something along the lines of "doc, next time you go deer poaching, use a rifle and a night scope instead of a motorcycle...it's easier, more illegal, but less painful."
I usually buy a new computer annually but this year, I skipped the new one. I paid to have my old 17" Dell repaired with a new motherboard and keyboard. Why? I couldn't get the same hardware configuration and OS anymore...they just don't make them like they used to. Dell still sells Windows 7 and HP has started as well. For the first time in history, I'm still not sold on the latest MS OS...and I'm not alone. Repairing the computer took forever. The vendor tried to find a motherboard on the cheap. They said their source was Hong Kong. My sister said the tech that supposedly placed the order didn't place it. I found them on Amazon but they'd blown about four months before they cried uncle and shelled out more bucks for the replacement...about three months after I returned to Jakarta in February. I got it back when I returned home in August.
I was walking to work and I spotted two very young local ladies resting from their bike ride. One starts chatting with me. She asked if I was jogging...with backpack and umbrella dressed in jorts...nope. I was walking. Her Hajib was covered by her bike helmet. She asked for my name and gave her name which I forgot. She asked where I was from and which state. She wants to go to the US...Alaska or New York...never seen snow but wants to. I told her I spent two years in Alaska (another link) and three days in New York buried in snow. In the back of my mind, I was thinking to try California and take a run at Tahoe or another ski resort where she could retreat to the warmth quickly but I said nothing to discourage her. Like many Indonesians, our brief chat was grounds for a group photo but her GS5 was rebooting. Typical of all Indonesians, she had and infectious smile and a great attitude toward life. It gives me faith that good people are everywhere.
Here's an interesting article about living abroad originally posted by a friend in Facebook. Much of it applies to me and those whom I've worked with over the years.
John McCain, former Presidential candidate and current US Senator, made a stop in Jakarta. Truth be known, I was a big fan of his until he flip-topped his positions catering to the conservative vote in 08. We all know how that ended up. I still voted for him. It's the Republican in me.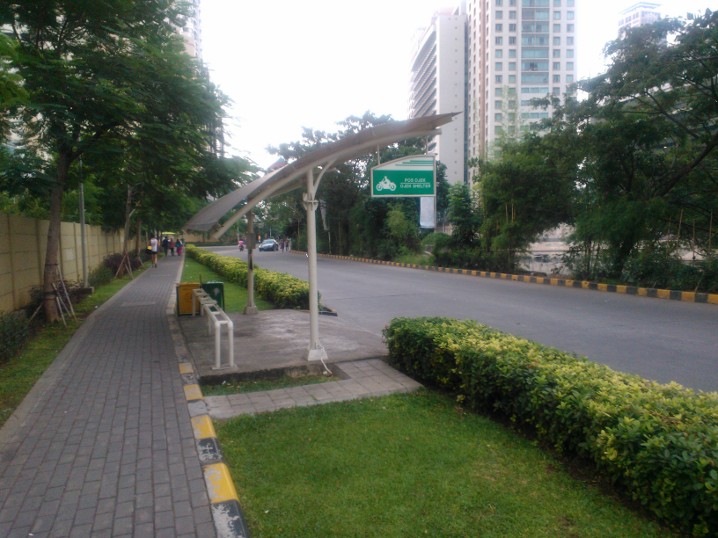 As I'm walking to work, I've built up a group of acquaintances I see along the way. Here's your virtual tour...
The doorman and the cleaning lady who's cleaning the lobby always say hello or share a smile.
As I leave the parking garage, there are the taxi drivers just arriving for work playing cards or reading the newspaper while waiting for customers. I see the many scooter drivers who are taking kids to school in my apartment compound.
The next compound over has a thrift market selling clothing. There are many deliveries and the cleaning crew is just getting off the night shift.
The shopping malls have security guards and staff who are just starting the day. The guards will share a smile and/or a salute. Some volunteer a handshake.
Taxi, ojek (scooter taxis), and tuk-tuk drivers are trolling for early morning passengers. Some of the ojek drivers share a good morning. The taxi drivers, who gave up on the light night bar crowd, are fast asleep in their taxis.
The tea bicycles are just starting the day.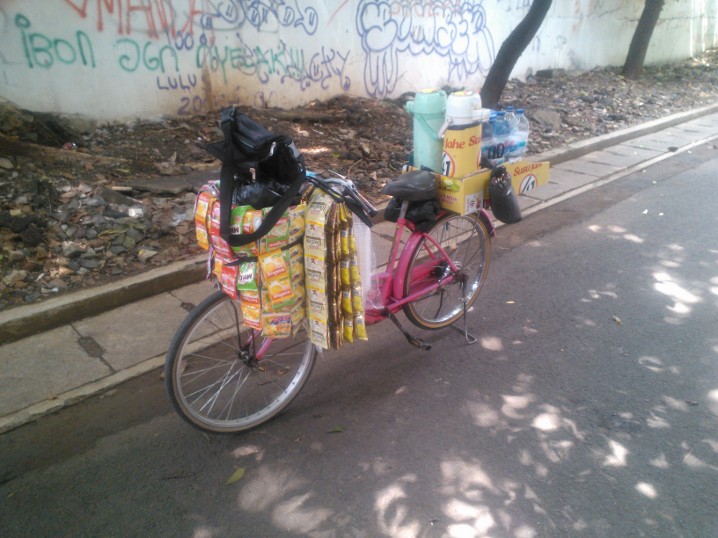 Some of the homeless are camped out on the benches or on the pedestrian overpasses along the way. Many are digging through the trash bins looking for recyclable plastic or metal that they can sell. I have the utmost respect for these folks. Competing with stray dogs, cats, and rats, this job would qualify for the TV series of dirty jobs but it pays very little. It's probably at the top of the list of the most putrid smelling jobs around.
The beggars sleep in or they may put a cup with a few coins in it as donor bait. The general consensus is that the beggars make the best living but you can tell it's a job for most. After a few days, you can spot the regulars. The professional beggars ruin it for the truly needy ones. We used to have beggars close to my apartment compound but they disappeared when Ramadan started.
The recyclers often sleep on the overpass during the afternoon hours to escape the hot afternoon. No, it doesn't get cold here but you often see folks wearing coats, especially those on scooters. You have to picture someone dressed up for winter wearing no socks and flops. One of our crew spotted a homeless man living on the roof of the pedestrian overpass. With the new construction, that overpass is gone. I'm sure he found another overpass to call home.
I used to see a family sleeping under an overpass out of the rain; mom, dad, and toddler. He was a sidewalk food vendor. When he slept, she took care of the kid and sold food. They've moved away from their spot and the construction crew has removed that overpass as well. If I was a betting man, I'd say they'll have a real home sometime.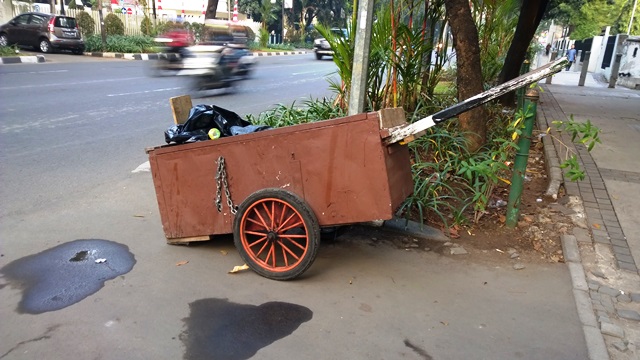 The majority of the food vendors work in close proximity to bus stops or pedestrian overpasses where foot traffic is high. The busses and taxis drop off their customers. The rich black smoke from a poorly tuned bus spews in the morning air. Further down the road, I spot a woman and her toddler son selling breakfast. If she's not selling food, she's spending quality time with her son. That boy will always feel loved. We share a smile.
A few feet away, another food vendor competes with mom and junior for customers under the same underpass.
Street sweepers are keeping their part of the world just a bit cleaner. Some use carts. I've seen families of four living in these two wheeled carts.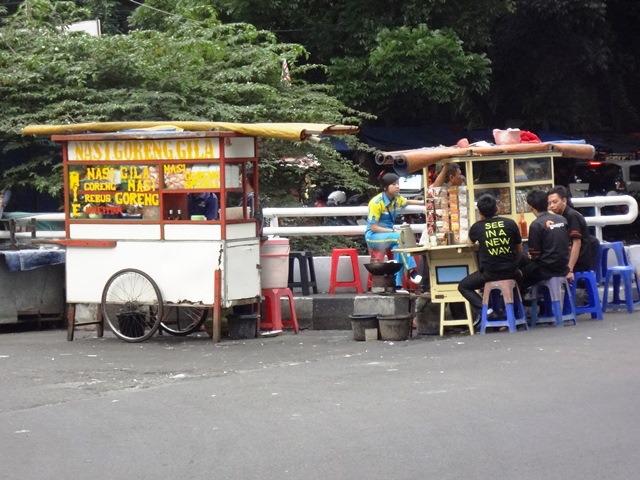 At the next intersection are the police directing the morning traffic. I may stop in at McDonald's for breakfast or just keep going. As I turn down the street, the street vendors are hard at work selling breakfast or cigarettes. I wrote about a sweet lady selling tea and smokes not far from the office. She has such a sweet smile it's hard to get mad at her for selling cancer. We have to earn a living somehow. BK sells burgers for breakfast. Some of the convenience stores are just opening up for business.
If you didn't know, Nike, the athletic shoe/fashion company has a factory here. They have stores in the malls and their prices aren't much lower than the prices in the US. I was walking to work one day and I saw a street vendor sewing a Nike shoe together from scratch. I see shoe vendors along the sidewalk doing the same. How long has that been since they did that back home?
Be careful when crossing the street. Pedestrian crossing lights stay green until the traffic light changes without warning you that the light will change. At least six vehicles will ignore the light changing from late yellow to red especially during the evening rush hour. Many motorists will see the coast is clear and scoot through a red light. Traffic lights on the corners don't give a true indication of who is supposed to stop and who continues through the intersection. Even though you're in the crosswalk, nobody will yield to the pedestrian.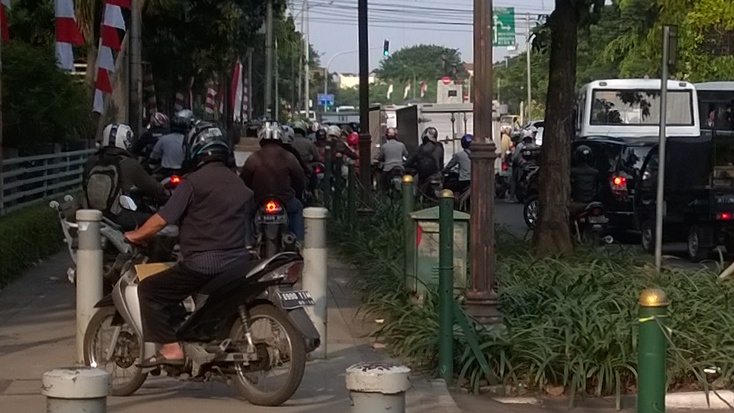 Watch your step on the sidewalks. Sudden drops can be expected in the form of missing manhole lids, extreme curb heights, or open holes left by eroding sidewalks or construction crews. The walking texter is also a sidewalk hazard. Look out for the ojek driver who believes the sidewalk is his freeway when the roads are too congested.
Going home in the evening brings a different cast of characters. The security guards at the shopping malls and hotels along with the police directing traffic are the only remnant of the morning shuffle.
In the evenings, the ojek, tuk-tuk, and taxi drivers park outside the grounds of major employer in hopes of attracting customers. Food carts line the way competing with the pedestrians and ojeks for sidewalk space but it's more made to order food rather than food that can be eaten on the fly such as a roll or sandwich. The menu is stir-fry from a wok or deep-fried foods. Some of these folks cook with enough garlic to choke the passerby.
One night as I was walking home, I was approached by a male who shook my hand and rubbed my belly saying that I was sexy to him. My response as I released his hand and continued my journey was "Thank you very much". Then I thought about it...about a year beforehand, I was approached by a female who had similar intents...twice. My response then was the same...keep moving. I can lose my job if I patronize the rental model industry and I do not intend to do that. These candidates weren't even worthy of consideration. My other colleagues who walk home from work have also been approached in the same neighborhood...mostly by young males in search of males...pass.
I'm told that my neighborhood has a high population of sex-traffic workers. Our source works for an Australian charity that treats low-income AIDS/STD patients who see their clients roaming our neighborhood.
The only public transit I've taken is the taxi. Ojeks and tuk-tuks have no meter or fare structure so they take free-will donations. They do have a few unmetered taxis that can and will treat outsiders as saps for overly inflated fares. I avoid these folks. No meter, no Bluelou. The subway is under construction to hopefully relieve the Jakarta streets from massive overcrowding. The military and government folks are meeting me along the way returning a morning smile. Some ride on the government busses while others hop off of public transit where a quarter takes you as far as they go.
Many people wear dust masks to filter away some of the air pollution.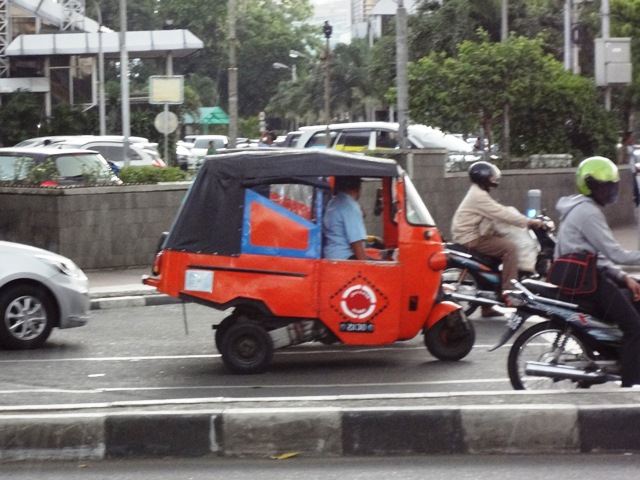 During heavy rain storms, the ojek drivers park their scooters and they stand underneath the overpasses keeping dry with their customers waiting for the rain to stop. Rain drops feel like bullets on the skin when moving at speed.
It crossed my mind that if it weren't for free enterprise, a lot of folks here would be unemployed. The ojek drivers, peddlers, and mobile food vendors all are small businesses. Heck, even the beggars. It's mind blowing.
On Sunday mornings, the main thoroughfare is closed to cars for pedestrians and bicyclists. Even the side streets that are open to motorists are swamped with food vendors and the pedestrians and bicyclists. It's a festive environment. Motorists don't have the right of way here. One of our crew who was running a mini-marathon race complained that the streets were so full, he couldn't run as he was constantly dodging pedestrians and bicyclists.
For the September trip home, I booked two different sets of flights. Wanting to keep my elite status with Delta, I booked them to fly from Bangkok to Omaha. Normally, I'd book their partner, KLM, and fly home. KLM wanted more than double their normal rate for the same route. I booked another flight to get me to Bangkok from Jakarta…but I booked the wrong airport. A bit of homework on the internet revealed that there is a free shuttle bus to get passengers to and from the two airports. With plenty of time between flights, I had plenty of time to transit.
To avoid getting into the same routine while I was home, I set up a trip to Vegas with friends. I don't think twice about sending a check to my investment counselor but if you ask me to toss a twenty into a slot machine and I break out into a rash. I went for the shows and the food. Like the last time, 2005, we stayed in the 4 Queens on Fremont Street. I didn't bother to unpack before heading off for deep fried goodness; Oreos and Twinkies with a chili dog chaser and fries.
I hit one show, Cirque du Soleil's Love with the Beatles. The show came highly recommended by one of my sisters. What I saw didn't impress me…dancing to Beatles music. We bought the best seats for the late show…wrong maneuver. Jetlag reminded me who's the boss. If I'd look up at the ceiling, the next thing I knew was that my buddy was nudging my knee…I dozed off…several times.
I assume you've seen features on CNN (Left) and Fox News about the Heart Attack Grill. You may have seen our posts on Facebook. It just sounded like fun. The marquee says "Over 350 Pounds Eats Free". One customer got his meal for free. You're given a hospital gown as you walk in the door. Wait staff dress up in hospital attire. They had the various fast food icons on the wall portrayed as if it were the last supper. There is no splitting of food between customers. The single bypass is an eight ounce burger patty. The double is the two single patties stacked...get it? I believe the record was seven patties. Fries were made in lard. Shakes are made with butter. Failure to eat it all will merit a spanking though they will spank you upon request even if you've eaten your meal. I probably could have done the double bypass but stuck with the single bypass. I passed on the bacon burger. The burger and fries were passable but the shake had a gritty texture I didn't like. Their web site advertises a shake with fried Twinkies...hmm.
The Vegas trip was a reunion on many levels with one friend from Blair, one formerly from Omaha, and two former associates from my Abu Dhabi project. I even ran into an old classmate that I went to school with at good old BHS...from kindergarten to high school graduation at the Las Vegas airport.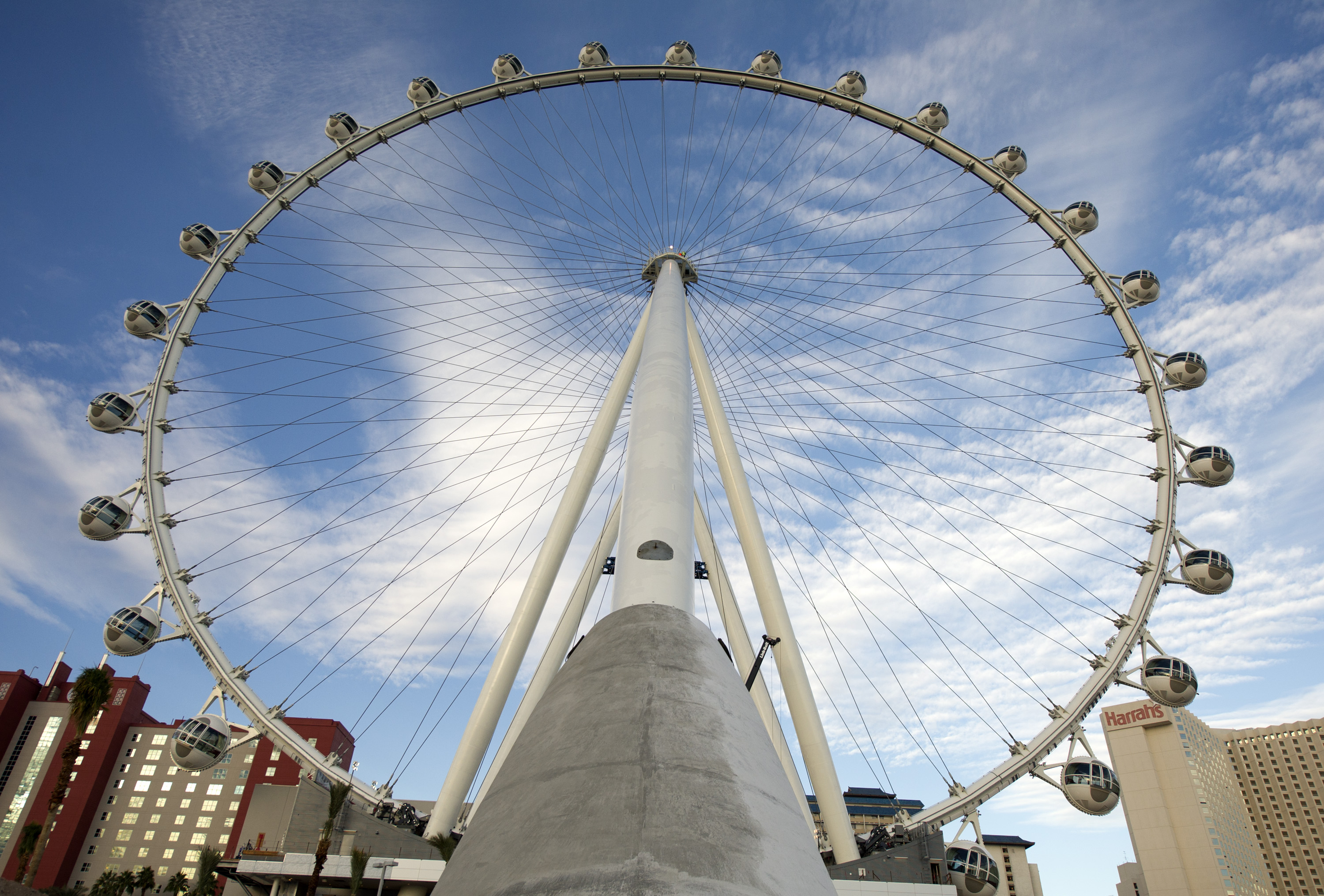 We found a bar that let us watch the Huskers play Fresno State. Your author struggled to stay awake through the first quarter.
Sunday, I tried the penny slots. No, I'm not much of a gambler when it comes to game of chance but I do believe in gambling in the stock market. I played a buck. With my friend as my coach, I was told I wouldn't get anywhere until I bet all lines at twenty cents per game. I quickly went up to three bucks. I dwindled below three bucks and started getting nervous. I swore as soon as I got above three bucks, I'd cash out. I did…three dollars and seven cents…net earnings of two dollars and seven cents. I didn't even know how to cash out a ticket until someone coached me.
It's our theory that the majority of the top Vegas acts passed on working this weekend because of the Floyd Mayweather boxing match getting the majority of the attention. I was apprehensive about booking another show as I'd rather not pay to take a nap.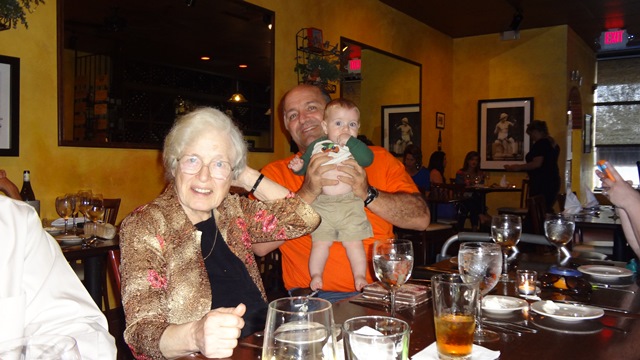 Monday, our last day, we hit the High Roller, a modern Ferris wheel where we got a fantastic view of Las Vegas. We had our last round of fried goodness. Unfortunately, they were out of peanut butter jelly sandwiches to fry.
Back to Omaha for more shopping, food, family, friends, and physicians. I've had a couple of Skype video chats with my niece and her newborn son but this was my first time we'd seen each other since her wedding. It may have been my sister's birthday but it was her grandson, my grandnephew that was the star of the party. He was definitely in his element for entertaining the family and the nearby patrons. We were also celebrating his mother's passing of her state board exams for nursing. As I've written, I'm not a great uncle, I'm a marginal uncle.
My heart goes out to my friends back in my old home town. For those that don't know, they got blasted by baseball size hail. Lots of homes, buildings, cars and the like were seriously damaged in the storm. Luckily, injuries were minimal. Stuff can be replaced. People can't. While it's a distraction for many, they were lucky there wasn't a bigger human toll. My mother was in town but left before it got interesting. I just finished putting new windows in our house so I figure it's a magnet for something to shatter some glass. The roof is just a couple of years old as well.
When I went home in September, I went for a visit. Much of the damage had been repaired but much remained. Plywood was predominant. What struck me most was the spirit of the people. I could read the skies and tell rain was coming. Hearing the locals speak, it wasn't rain that was coming but "it might be hail". I'd never heard this type of comment…never seen this defeated spirit. Frankly, every place has natural disasters; rain/flooding/landslide, snow, earthquake, typhoon, hurricane…something. The defeated spirit saddened me.
Like the rest of my life, the next few months are totally up in the air. Think Laos, Bangkok, Cairns, Jakarta, Sydney, and Omaha…not in any order nor preference. Confused? Me too but not knowing what's next is normal for me. The only way you'll find out the story is to email me or come back to the BLT for more adventures with Bluelou.
Merry Christmas! Happy New Year! Happy Kwanza! Happy Chanukah!