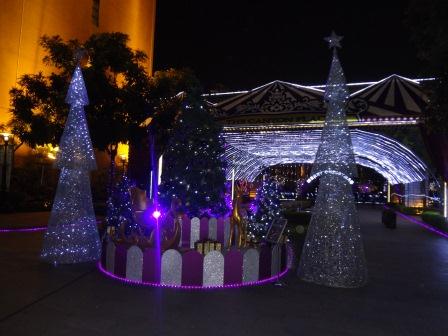 ĎTis the season for the Best of Bluelou. For those that only read my Christmas update, itís the canít miss issue of the BLT. I left you in China but IĎm in Finland right now. Iíll get to all the details later.
As I last left you, I wrote about Christmas in Hong Kong. On a Saturday morning, one of the guys told me he was going to make a day run to Hong Kong on the following day and asked if I was interested in going along. I was going the following weekend and was bending everybody's ear trying to get tips on travelling to HK. It just wasn't sticking in my brain. My reply...sure! The chief mission was doing Christmas shopping but another friend and I tagged along just to learn the ropes. According to my GPS, it's only 75 miles to HK but the actual train ride is two hours. The train gets passed several times in route by the bullet trains. If you take the bullet trains, you have to switch trains once you get to Hong Kong so it's about the same duration.
FYI, only the first class cabins in the train keep their bathrooms open the last half-hour before you hit HK...let's just say they didn't spend much on the septic system. Pay attention if you decide to walk between the train tracks.
It felt weird travelling without preflight announcements, fastening my seat belt, and putting my seat and tray table in the upright position though we did have to go through security screenings and passport control. Even though Hong Kong is part of China, you still need a passport to exit China into HK and return. Iím reading that the travel restrictions are easing between HK and the mainland. The currency is different too. The value of the HK dollar is a bit more than the Chinese Yuan but the HK$ is far more colorful. Hong Kong is a whole other bird as far as the Chinese are concerned.
When I left Turkey in 94, the lucky dog associates got to go to Hong Kong and I headed off to Alaska. No regrets but I was curious. An old family friend used to work for Continental Airlines and called Hong Kong his second home. I've lost track of him but these situations involving HK piqued my curiosity. In short, it's a great place to be. New HK Photos Here.
Generally HK is more expensive than Guangzhou, though not much more. The British did well before they turned over HK to China in 1997...the folks from Hong Kong are far more civilized than the mainland Chinese. It's hard to describe but it feels as if you're in a first-world country.
I left early Christmas Eve for HK. The first maddening experience you'll discover about HK is that HK taxies don't travel to mainland China from the island of HK...that's a different taxi. Though many of the HK residents speak English, it's hit or miss to find taxi drivers who know it. I gave up and hopped on the subway...equally confusing. The HK subway is supposed to be one of the best in the world...according to whom? The maps and transfer points are confusing but it gets you from point a to b without much fanfare.
My first touristy thing I did was jump on the ferry for an hour-long ride to nowhere, bought a Diet Coke and bought another ticket for the ride back on the same boat. My smart phone couldn't lock in on the satellites due to the tall buildings so I used the old-fashioned map to make it to the dinner and back to the hotel...imagine that...navigating by a map!
A friend in the know told me that I needed to go to the HK Cathedral for Christmas Mass. I confused the times of Mass so I heard half a Mass in Cantonese...including Christmas carols that were familiar but given a new spin in a different language...it was pretty cool. I had to skip out early in order to call the family who were celebrating back home. Two halves make a whole so I met the obligation. The hotel advertised Christmas dinner but it was a typical hotel buffet with pressed turkey. I took the cheesy double decker bus tour around Hong Kong just to get the lay of the land because I knew I'd be back.
Just like many of the past New Year's Eve celebrations, I spent this one in my apartment inspecting the back of my eyelids for cracks...no cracks that I'm aware of. I'd thought about doing another weekend in HK but that inspiration came too late and the hotel rooms were priced out of sight. I wasn't too enthusiastic about another weekend of travel when I'd be going home the following weekend.
My trip home was pretty low key. It was friends, family, and doctors but aren't they all? Ma and I made our pilgrimage to visit her family in Des Moines.
Thanks to the sisters who made sure I had my Thanksgiving even though it was in January. I'm not complaining. It was a lot of work and the food was great. Ma and my sister loaded me up with Christmas cookies and fudge...so much for losing my girth.
We did a cholesterol tour in KC...but no fried chicken this time. We didn't know that our favorite restaurant wasn't open for lunch during the week. We did hook up with the legendary Mr. Ed.
My December 2011 trips to Hong Kong were the first of many. If the boss gave us a two-day weekend or I felt the need to go, Iíd bolt off to Hong Kong for a cholesterol tour and a sanity break. Iíd be just as anxious to return home to get ready for the work week so Iíd often take an early train back to Guangzhou. I did get in a bit of sightseeing in HK.
The HK light show was pretty low-key. A HK tradition, each participating building along the harbor had its own display on the exterior faÁade. One of the building towers had a laser light show. Even one of the harbor boats was lit up for the festivities. You could tune your radio into a program that narrates and plays theme music. The whole thing lasted fifteen minutes.
The tram was nice but on the two days I spent in HK, both were overcast. While the building at the top of the mountain looks pretty cool, it's just a shopping mall for tourists. They did have some historic walks but I wasn't in the historic mood. Best I could do was buying a large hot chocolate; snap a few photos, relax, and enjoy the view. At the top of the mountain, I looked at the cable that pulled the tram up the mountain and felt it best not to look again. There was enough cable but I wasn't ready to trust that technology with me just yet.
They do have a Hard Rock Cafť but this one wasn't anywhere in the neighborhood to my favorite, the original one in London.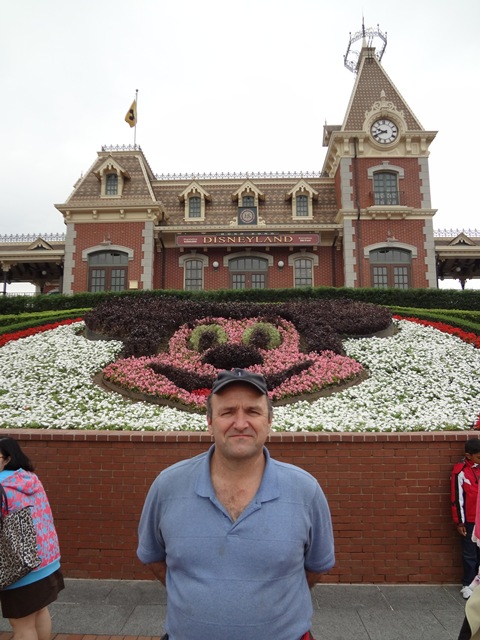 For Easter, we got a two-day weekend so I left on Friday night and spent two nights there. On my bucket list...a trip to HK Disney. This trip, it came true. A couple of the guys took their families to Disney. I took my only kid (me) for another visit with my youth. I've been to Disney in Paris, Orlando, Anaheim, and now Hong Kong.
I went early hoping it wouldn't rain. Lucky for me, it was overcast and the forecasted rains never came. It was perfect! The crowds slept in so I ignored my lessons learned at Six Flags San Antonio regarding me being too old for roller coasters and hit Space Mountain with no waiting in line. I kept my eyes closed but it didn't matter as it was dark inside anyway.
I saw both musicals; The Lion King and the Golden Mickeys. I'd seen the Lion King in London and I thoroughly enjoyed it but this shortened version wasn't impressive. I was very impressed with the Golden Mickeys. The costumes, choreography, and memories it brought back will be something I won't soon forget. Having been part of the stage crew for three musicals, I can only imagine the difficulty of this production. Youtube has many segments of this production. Spoken word was in Cantonese but words were sung in English. They had electronic translations posted but you either watched the play or read the translations...but not both.
Because the crowd waited for mid-afternoon, the only time I waited in line was when I arrived for a show too soon. The park has another couple of sections that will be added later this year and again next year so I'd seen and done all I wanted to do by late afternoon when the crowds started filling in.
Tickets and meals were reasonably priced. All the trinkets and memorabilia were pricy...I stayed away from these things. The Disney photographers would sell you their own digital/digitally enhanced pictures but would take pictures of you with your camera at no cost. It was a minimal pressure sale so I thought it was pretty cool.
I was hoping to catch some fireworks to bring in the Chinese New Year (dragon) but the fireworks in Guangzhou where not even close to those in Beijing. Hey...update...I've added video by Butthead! Rainy skies and my own jetlag (my recent trip home) worked against me seeing a single firework explosion...rats! In Beijing, all I had to do was look at the horizon from my window and enjoy the show. I heard one large show but saw nothing. I thought there would be more...not!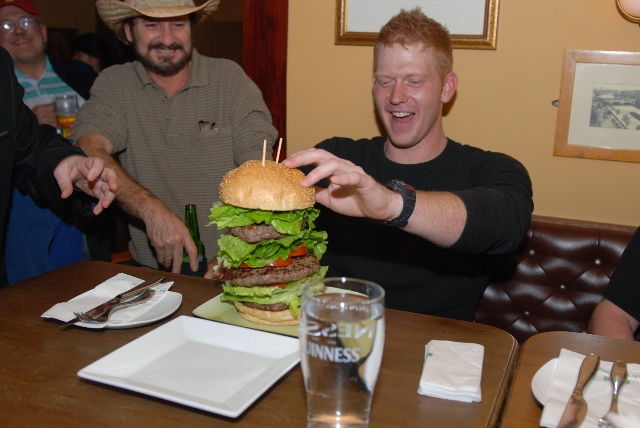 I had a whole write-up about the Great Burger Beatdown...but a picture, in this case, a video, says a thousand words. Nope! I haven't heard about anyone who posted anything on YouTube so I made my own video file with my deepest apologies to Mr. Jimmy Buffett. Click on the picture to the left. Next stop, the Oscars.
I've eaten a double burger from this place one time. It was a big challenge but nowhere near the challenge these four attempted to conquer. I thought it was boring and not very tasty to boot. I'd heard these same comments from two of the combatants. Truth be known, I've always wanted to do a Man vs. Food type challenge but I've got to like what I'm eating...this isn't the case for this burger. I'll have to keep my MVF challenge on my bucket list.
A week after the burger beat down, one of our subcontractorís crew who was ill during the contest, got well enough to shatter the record by eating the burger in just under eight minutes. He reported an elevated heart and his face turned red. His boss promised to give him the afternoon off if he could eat the burger. He got it! He went home sick.
One of the crew spotted a place where you can get the throwback jersey for the major professional sports. I won't be specific but they're the real deal...perhaps slight blemish models but I paid just under ten bucks for one and the tag says $300. I checked the price on the vendor's web site and it matched the price on the tag and it says "Made In China" right on the tag. You do the math but someone is making major bucks off of these things. I bought a bunch for the folks back home.
The guys at work started buying radio controlled helicopters (R/C). The train station in Hong Kong has a gadget shop with overpriced helicopters that are very fancy. Amazon.com has them substantially cheaper. I've always been fascinated by them so when I heard one of the guys was going to buy one, I had him get me one too. Though my remote control isn't this sophisticated and the colors are slightly different, I bought this helicopter (RIGHT). I checked Amazon.com and I paid what I'd have paid had I bought it through Amazon. Shipping would cancel with my taxi fare.
At the beginning, my R/C skills were nil but I got better. If it's any indication about real life, with me as a pilot, my helicopter would end up in flames without much waiting. I spent more time retrieving the crashed unit than I did flying.
The instructions weren't much good. They're written for the native Chinese and the translation into English isn't much good. There are several pieces of paper and the box contains crucial instructions too. Kind of like life...make it work as you go with a few stumbles (or crashes) along the way and getting it out of the package is half the battle.
One salesman had a technique of throwing the helicopter to the ground on the landing runners to demonstrate how tough the unit was but I keep proving him wrong by breaking them at the rotors. I'm on my fourth copy of this unit...the original and three replacements. It took a week for me to break my first one so I had to travel down to the market where it was bought. I must have hit a half-dozen shops before I found one that sold my brand. He didn't have parts but he would take mine in trade for a new one...and I'd dropped the remote...and needed a power adapter...but I was happy...and just as happy to leave. Mission accomplished and I didn't want to get lost in the shuffle so it was best that I go.
I bought a bigger model as one of our more experienced users said it was easy to fly. I found it was easy to fly up down, and backwards. My usual spots were too small so I tried the courtyard of our apartment compound. I was large and open...except for the trees and the ponds. To make a long story short, I backed the unit into a palm tree. I thought I could wiggle it out of the leaves but it got more entangled as I went. It was about eighteen feet in the air and I couldn't reach it with a six-foot stick with my six-foot height and my arms stretched to the limit. I went to the front desk knowing that I couldn't even begin to explain this one so I simply asked if one of them could come with me for two minutes...my problem was self-explanatory. The doorman explained it quickly to the desk manager. He knew my room number and I could go back to my room and they'd get it down. A half-hour later, I got a call, they'd bring it up. Wow! That's quick. It had all kinds of greenery wrapped around the rotor but it was intact. Oh! By the way, no more helicopters. As a helicopter pilot, I was banished from my own neighborhood. I was crushed but it's safer that way. I confined my flights to my apartment. Even if I didn't fly it again, the laugh was worth the cost.
I was offered a Thai iPhone...for about a hundred bucks. It was the 'real deal'. The Chinese brands, the saleswoman said, aren't very good. FYI, if you hadn't seen the recent rash of publicity surrounding Apple manufacturers in China, Apple makes their products in China.
We had two on our crew who had heart attacks. One who had one was diagnosed through a blood test as the EKG proved almost negative...a bleep. He was shipped off to Hong Kong where he had immediate surgery to repair multiple blockages that had developed over the years.
He left the hospital without checking out and taken to HK via ambulance. At the border, he had to get out of one ambulance, rise from his stretcher, walk through immigration, and get on another stretcher which was lifted into another waiting ambulance. Though it was a precision process, it still sounds like something out of slapstick comedy movie. I have no clue what happens if you can't get up from the stretcher and walk through the process.
He said that had he remained in China, he feared he would have died. He told me that every pill his Chinese doctor had prescribed had to be paid for before he consumed it so he'd have to go buy it in the pharmacy and then consume it. I guess it cleans up a lot of their paperwork.
Apparently, they've got remarkable medical technology in HK as he returned home in a week.
A week later, he flew home. Both the guys who were heart attack cases are still kicking.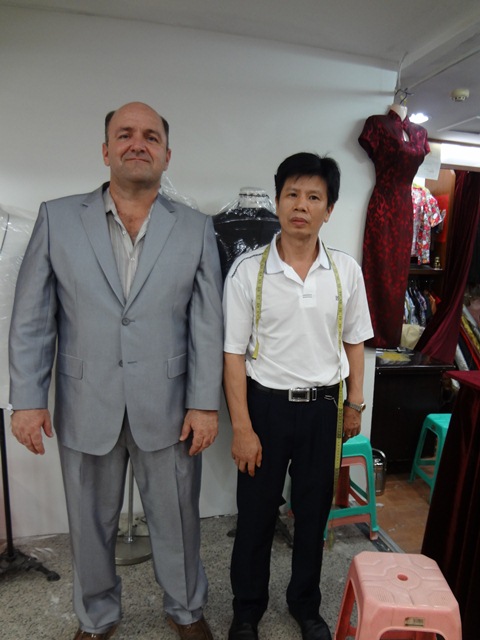 I had a suit tailored in China for my niece's wedding. Pants and jacket went for $135. The woman who did the measuring spoke little English. One of my associates accompanied me and helped me understand her questions. I returned a week later to try on the suit. The "changing room" was a curtain pulled in the corner of a very small shop...very small corner...no fun. With no ventilation, it got hot and sticky in a hurry. I got fitted for my suit on Sunday with the test fitting and pick up a week later. It was definitely an international experience worth remembering. Requests for blackmail funds for viewing me in a suit will be ignored.
Many years ago, I made a promise to the folks that they'd have a roof over their heads with payments going towards a mortgage rather than a landlord. We've been making house payments together. When I went home in July, we hunted down the mortgage. Mission accomplished! We own this sucker! Funny though...my credit score dropped ten points instantly after the loan was paid...less debt should mean a higher score. Go figure.
As I child, I remember my parents waking us kids up to see the first walk on the moon. As trips to the moon and outer space continued and space travel became routine, I became less and less interested unless it crashed or some other truly incredible event. If you didn't know it, China launched a manned rocket into space to connect with the orbiting Chinese space station. As coincidence would have it, I was walking through an electronics store where everyone had stopped to watch this live event. You could feel their pride. That's the third country to do space travel...US, Russia, and now China. It brought back memories.
The folks at the office posted a notice that if anyone had anything they wanted to sell before they left, contact the office. I half-heartedly contacted them about selling my bike. It was 50-50 as to whether the company would ship my bike back to the home office...what then? I've got four bikes back home. A picture of my bike was posted with the ad online...got about half of the original price. It looked new without a single scratch. I kept the accessories but I'm going to miss my friend. The exchange was pretty slick. I emailed the photo on Friday, confirmed the deal on Wednesday, and had the money on Thursday...less than a week.
I regret not exploring more of Guangzhou on my bicycle or by walking. I had a regular route I took when I did go riding. With all the rain that Guangzhou gets, it's best not to venture too far from home if you want to avoid getting wet. I'm usually directionally challenged for a month but I had a tough time getting my biological compass working here since I set foot in GZ. I generally walked home from work every night.
One of the crew said he took his family to the Guangzhou circus. He said it was fantastic. That's all the inspiration I needed to add it to my Guangzhou bucket list. Tickets were priced a bit more than I expected...forty bucks for the unreserved cheap seats. I got tips from the guys about the performance. I liked the dangerous acts...Wheel of Death and the trapeze (didn't see the net) but the animal acts lingered in my mind about what cruel acts happened behind closed doors. I hoped for more pizazz but it was ok. Perhaps, my HK trip to Disney heightened my expectations.
Iíve been to China four different times. Iíve got many different web pages to record my memories of China. To help you navigate your way through my China pix, Iíve added a photo index page for China. To navigate to this page, simply click on the China flag at the header.
Add another flag to the header at the top of this page. If you click on the flag, you'll see pictures of my trip.
Original planning had me departing Guangzhou on July 7 and heading home. I had no knowledge of what's next other than home...funny how life can change in a hurry. My visit was cut short by a week when I was detoured to Helsinki for a couple of weeks work. The company arranged for movers to ship my bags home because tugging three-hundred pounds of luggage to Europe is a major pain. What they didn't take will probably cost me around five-hundred bucks to replace (OTC meds, toiletries, spices, kitchen utensils and cutlery...too late now to complain as I can't ship it to the US). Due to a nasty flight schedule, I looked upon this assignment as an adventure after I made it to the airport. Most of the associates were jealous. My revised itinerary had me there for twelve days before I flew home.
Get your globe out. This one requires a bit of active participation on your part. Using my atlas and my old FF mile statements, I figure I've traveled around the world in 175 days and 20,303 miles... January 20, Leave Omaha to Detroit. Arrive in Beijing the next day. The following day, I land in Guangzhou. July 1...Guangzhou to Istanbul to Helsinki Finland. July 12...Helsinki to Amsterdam to Omaha. Jules won by 95 days.
Finland...wow! Two words describe my initial impression: surreal serenity. The place was so laid back/serene...that it was surreal. The summer sun was just like Kodiak, perpetual sunlight, so I had some experience in the situation. Helsinki has around 600,000 people (about the same size as my home, Omaha) but it's so QUIET! Like most of the countries I've been to, it was only a name on a map and I wasn't much for world geography in school.
Their currency is the Euro. The prices on everything were out of this world. A can of Coke from the grocery store was over two bucks. A moderate lunch was twelve to fifteen dollars at the grocery store. A large quarter pounder value meal from McNasty's cost about nine bucks. A cursory explanation was that labor and taxes are high. Rising prices created a vicious cycle of price escalation.
I saw a large number of American cars and trucks...convertible Cadillacs, Chevy Blazers, and Caprices. Given their wintery climate, I didn't see any rust-bucket cars. As luck would have it, the first Friday of the summer months, a local car club puts on a car show at the harbor. There were T-birds, Mustangs, Camaros, Firebirds...even Volares for you Mopar 80s freaks. Imagine coming to Finland to see American cars. The Finns seem to have a thing for big cars. With gasoline running about eight bucks a gallon, I'd go straight from the show to home if I had any of those cars.
There was a nice respect for pedestrians and bicycles. Cars stopped when pedestrians approached the crosswalks. Pedestrians would wander out in the streets without looking in seemingly blind faith that the motorist would stop. The sidewalks are divided between bicycles and pedestrians. Bicyclists share no respect for pedestrians who wander into their lane. With hard winters, the Finns seemed to exploit every minute of daylight by walking or riding bicycles.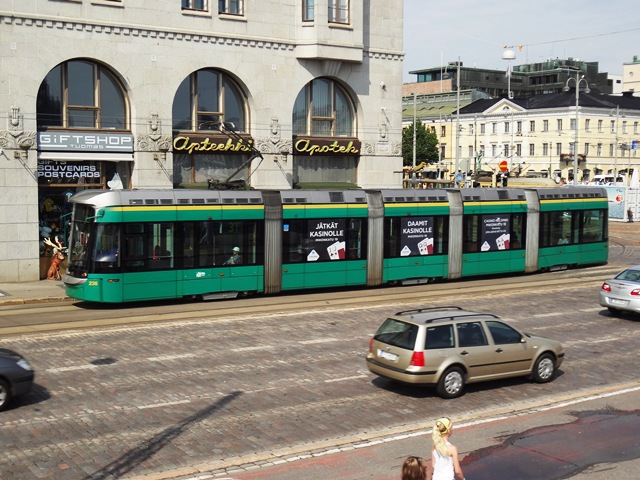 Public transit is via the trolley and the ferry to other countries. I bought a week long public transit pass and did what folks told me to do...go hop on a trolley and ride it as long as you like. When you get tired or simply see something you want to see more of, simply get off and get on another trolley. My pass worked on busses and the subway though I stuck to the trolleys. Yes, even the trolley drivers can't resist the urge to text while in the driver's seat.
For the techno geek such as me, the public transit system in Helsinki is a dream. Trams and busses are equipped with GPS. A computer system feeds their ID, location, ETA, and final destination to electronic billboards at each stop. Their signal is also tied to the internet. My Nokia has an application that uses my GPS location and a destination I input and gives an estimated walking time to the transit stop, the bus/tram numbers and stops and an ETA...pretty slick.
Recently, the message board was down so I used my Nokia to find out where the tram was. By the time it started kicking out information, it told me the tram was waiting for me. Sure enough, I looked up and there it was. Had I kept staring at my phone, chances are it would have driven right on by because these trams donít wait long for ANYONE!
One-way taxi fare from my apartment would run about sixty bucks compared six bucks using public transit. In spite of doing all my research to take the bus to the airport...using my Nokia program and all that technology...even asking the driver...I still had my doubts that the bus would take me to the airport. Prior to this run, Iíd taken either taxi or had a driver. This shot was on my own. While I must learn to trust technology, I still have my doubts. I made it.
You donít have to own a smartphone to navigate the public transit system in Helsinki, just a computer.
No visa was needed to enter the country. I was asked what I was doing here and the immigration agent stamped my pass after hearing my short explanation.
Before I left China, I discovered one of my former colleagues from Tunisia would be working on the same project...bonus! We had dinner filling each other in about whom we've worked with in the past and regaling old stories.
The project...same song...eleventh verse. My job...same verse.
The company put me up in an older but nice hotel.
The hotel put out smoked salmon on their breakfast buffet that was incredible. It was one of the few cheap foods you could get in Finland.
On my one day off, Sunday, I went to Mass at the Cathedral (Latin/English), rode a cheesy tourist boat to see the harbor, and took a loop around the city on the trolley. From the quantity and type of photos I took, you'd think that all I saw was Cathedrals. That's not the case. It's just that they're more interesting architecturally. Your Helsinki photo tour starts here, continues here, and finishes here.
I did find another Catholic Church nearer to my house than my previous one. Masses are conducted entirely in English. I do have to switch trams to get there and the English Mass is in the evening...tradeoffs but now I have the option of two Masses rather than one.
While in Helsinki, I was expecting at least an offer of a short-term contract or even longer, but it didn't happen. I'm not going to shed a tear for not seeing a flake of snow, which, I'm told, they get plenty of with the winter cold. One of the crew had his snowblower on order from the US. The company would have paid my Finnish taxes and I'd have had to pay the American tax burden of fifty-percent...another problem I wouldn't have to face. I felt lucky having gone to play tourist for twelve days and gotten PAID TO DO IT!
When asked, the Finns would drop their native tongue (Finnish) for English. Introverts by reputation, they kept to themselves but were always friendly when interacting with others.
The weather couldn't have been more pleasant while I was in Finland. I was advised to bring a jacket. I got rained upon a couple of times but temps were very pleasant.
On my last day, I found a restaurant one of my GZ colleagues said I should try, Kynsilaukka. It was my only Facebook post. Kynsilaukka puts garlic in everything they make...coffee, martinis, beer, ice cream...you name it. I was advised to skip the beer and I don't do coffee. The ice cream sounded interesting but I'd eaten enough: seafood casserole, garlic soup (a tomato soup with garlic), and a hot and spicy shrimp pot was my fare. Check out the menu. They even have garlic martinis. Now, I'm not a garlic freak. It just sounded totally extraordinary and I was right. I flew home the next day fully aware that the airplane passenger next to me might catch more than a whiff of garlic.
I did make it home for my niece's wedding in July. I arrived on Thursday and we drove three hours to the wedding on Saturday. Luckily, I didn't drive. I wasn't sure what time zone I was in. Regardless, I traveled the most to get to the wedding.
I kept up my tradition of giving Chinese pearls for weddings...probably wonít be keeping this tradition as I canít envision too many more China assignments.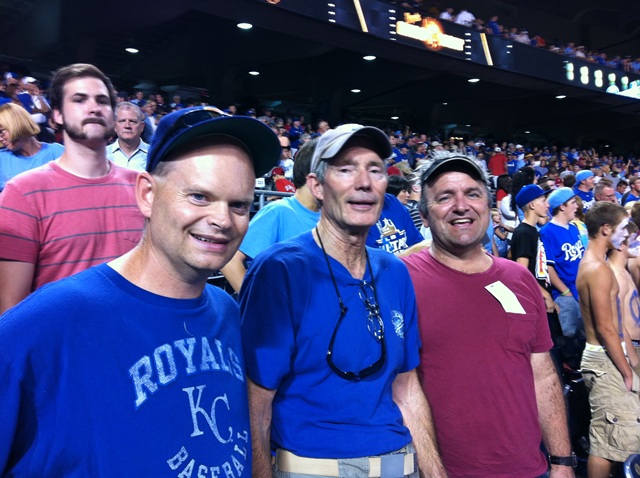 I've made one road trip to KC to visit friends including the infamous Mr. Ed. We did one KC Royals baseball game. Of course, Martha, my GPS wouldn't let me drive past Stroud's without stopping for some artery clogging chicken.
After I left Finland, I was beginning my extended leave...just finished the wedding and was looking for work. I had some luck and was beginning to get the attention of headhunters and HR folks. I was applying for anything and everything interesting on the internet.
I awoke one morning with the folks from Helsinki sending me an instant message via Skype wondering if I was ready to go back to work. This threw a curve into everything. In the few short weeks I'd been looking for work, I'd talked to folks about work in South Korea, South Africa, China (again), and other locations. This selection was probably the last on my mind for possible outcomes. I'd been thinking about my personal preferences and I picked Helsinki. Thank you to those friends who helped me in the decision process. This assignment is supposed to be temporary but I've had temporary assignments lasting a year and a half. If it goes beyond Christmas, and it will, I have my warranty inspections that are scheduled for January. They can be delayed but not abandoned.
The company picked up work in some interesting locations. I'm told in in consideration for some of those assignments after this one is up. We'll see. Do I work to live or live to work? Frankly, I used to live to work. I'm becoming less and less that way. I like to live and work...part-time work that is. Being home and idle gives me a chance to see the friends and family. The only drawback is consistent health insurance. International work is the only work for me. I'm not domesticated!
I liked Helsinki but I wouldn't have missed the snow had I not worked there. I had my stuff spread out in four different rooms in the basement. It took me about four days to get it in travel order. It's been a long time since I packed my winter gear. The kitchen stuff stayed home as I'd probably build up the kitchen to my satisfaction by the time I had to leave should the time frame work to plan.
This all happened when Ma and I were having our house reroofed. I had to protect Ma from the roofers and the roofers from Ma. They would probably drive each other insane. I don't normally build roofs with shingles. On that same day that I told my new/old employer that I'd return to Finland, the roofer delivered the materials and the dumpster. Tuesday morning, I crawled out of the shower and I thought I heard footsteps on the roof. Does Santa come in July? I few seconds later, I'd definitely heard work on the roof. There were eight roofers stripping the roof and reroofing with two on the ground crew. Gutters and all, it was done before 530 that evening. It took the bank longer to send out my check than it took to do the roof. I told the boss, beforehand, that it'd probably take seven to ten days for the roof to get done. Boy was I wrong. I called it Operation Mexican Storm.
As I've written before, it's hard to travel when you're looking for work. Employment becomes a major occupation. At least, I found time to hook up with family and friends. It seemed daily, or every other day, I'd visit with an old friend from my past either in person or via the internet.
I've often written that boring travel is the best travel. Such was not the case when I flew back to Helsinki. My flights were normal...Omaha-Detroit-Amsterdam-Helsinki...no problem. The more I read, the more I wonder about my stay in Amsterdam. I got in early Wednesday morning. I had to walk through the airport to terminal D...my gate. Schiphol Airport in Amsterdam is a huge airport. My gate was located at the end of the concourse. I hadn't been there long when I heard that another flight was going to use this same gate as the departure gate...gate change...walk all the way to the end of the B concourse. I hadn't sat down for more than a minute when I had another gate change...back to the beginning of the B concourse. Some cultures interchange the term "Security" and "Safety". The airline said there was a security issue in terminal C. The busses were getting delayed due to a sudden influx of passengers. It wasn't clear in my mind what was happening at the time. When I boarded the plane, someone told me that he saw the bomb squad coming to terminal C. Here's the link. Here's another story about the same airport on the same day. My flight was delayed about forty minutes. I got lucky. I can only imagine how the final impact on departures and arrivals would be given that the airport is a major international hub. The impact was evident while I was at the airport....the airport busses got stacked up while I was there. The bomb, a WWII leftover, was detonated without incident. I arrived at the office and someone showed me the article about the bomb. I found the hijacking article on my own.
There is a restaurant in Helsinki named "Savu". It literally means smoke. No kidding, they put tar in the food. It makes everything taste like it was smoked. I had the set menu with a carrot soup (chunks of smoked chicken), crackers with cream cheese (smoked bear meat), smoked steak, potatoes, coleslaw (neither were smoked), beer (yes), and wine (not that I could taste). I'm a HUGE smoked food fan. They didn't smoke my water nor my Pepsi though. The waitress was pushing bar drinks hard and I left so I could make it to work the next morning. I mean she was evil.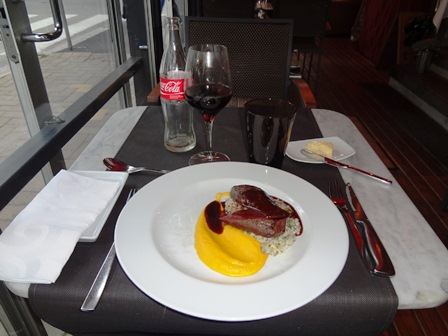 On Facebook, I posted a photo of a reindeer fillet. Less than fifteen minutes from my apartment is a restaurant named "Kuu". I had the set "Kuu" menu...salmon soup, reindeer fillet with port wine sauce, cheese, and apple sorbet with vanilla sauce. As a kid we were often given deer sausage from friends but I've never eaten deer that wasn't sausage. With the amount of spice, it's doubtful you get the original flavor of the original animal meat. As I wrote, it looks like beef...probably liver...but it was lighter than beef. The food was very expensive and portions were very small. The litmus test...I'd eat there again if I was with friends who were in town on a visit but I've been there...done that and there are other places to explore. I believe Christmas is still on schedule as these deer didn't make Santa's team.
The company told me I would be here for four months so I left my kitchen stuff at home. While it seems I'm infatuated with food, I have to eat. Adding variety makes it interesting. A constant diet of fast food is not good nor is it good for me. In the words of Ben Franklin, "some eat to live while others live to eat". I'm closer to the latter.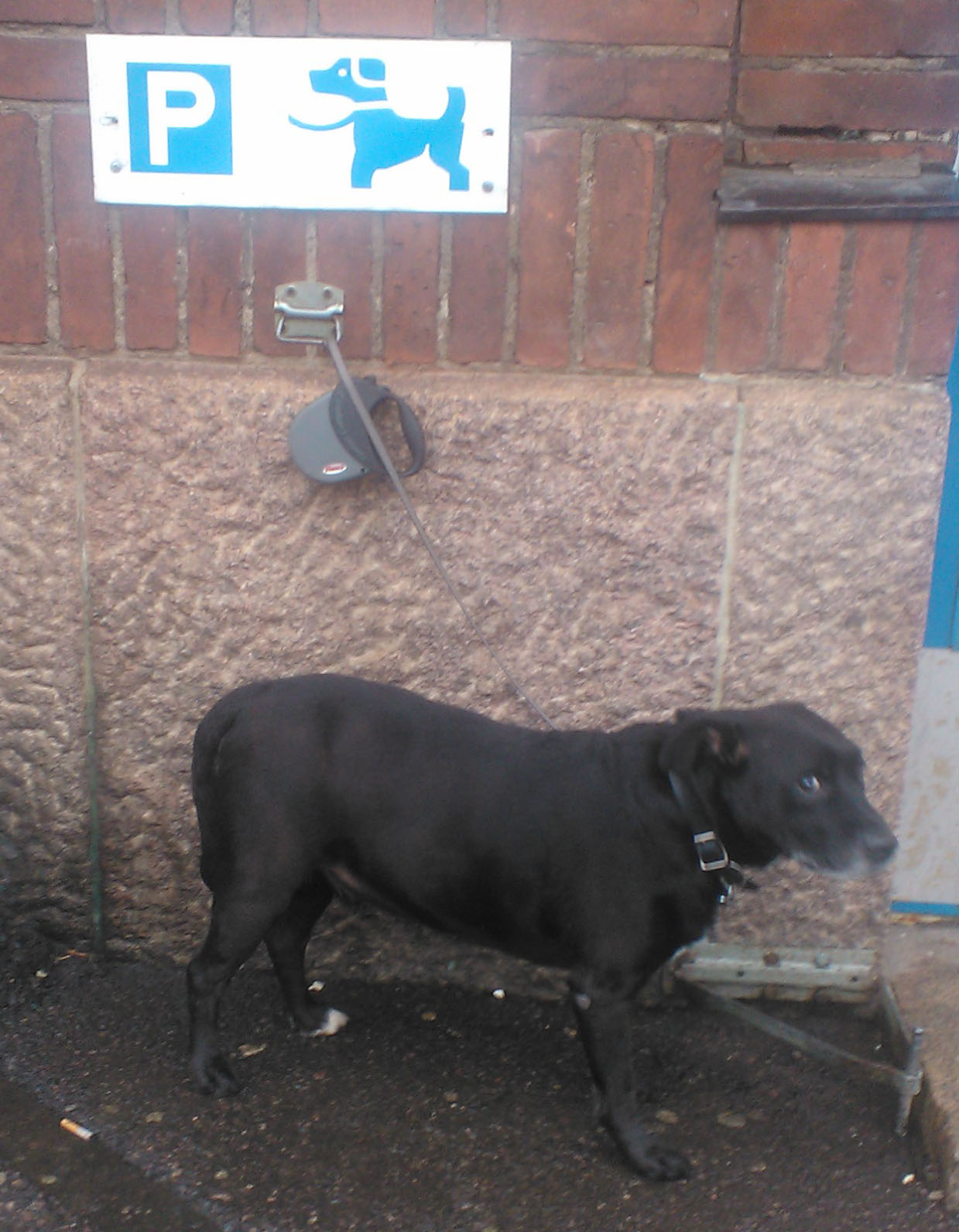 For you non-construction folks, you might want to skip over this paragraph. Given the shortened construction season, the Finns often resort to encapsulating their construction projects in a tent using scaffolding and plastic. You can heat the structure and leave openings for access. It looks like a spaceship but its construction. There are a few other things Iíve seen used here that Iíve never seen used in construction. Ever seen a concrete pump with a mixer drum on the same truck? How about a rock pump that blows under slab stone fill into position without any other equipment (loader, wheelbarrow, etc.)? Our site work contractor uses articulating buckets on his backhoes. Itís the first project Iíve seen where chain saws are used to cut just lumber as opposed to trees. Chain saws are everyday tools around here. We have a couple of drawing laminators that protect your documents from rain. The ultimate goal is to conserve on the highest cost element...labor.
Finnish labor laws are so influenced by union law that itís generally the unions that set the laws. Even the office staff, which, in our country, is separate from labor, is part of the Finland labor laws. After a certain amount of time, office staff is entitled to overtime which is cost prohibitive for most employers. Itís hard for us to relate as weíre pegging about sixty hours a week while the Finns generally put in forty hours. We canít split up the lunch hour...all or none. Like the French labor laws, after an employee passes their probationary period, itís hard to terminate a bad employee without a lot of money due the employee.
Nokia headquarters are in Finland. For you trivia buffs, Nokia is a city in Finland. As I've written before, they're my favorite cell phone. There's a Nokia store not far from my apartment. I hoped to see the new, state of the art, Nokia cell phone. It was under glass. The phone it was replacing in a few weeks was more expensive than the same nearly obsolete phone I could have bought it on Amazon...so much for my hope of getting it cheap in the Nokia birthplace.
One of our locals worked for Nokia before she came to work with us. She said she got out while the getting was good...but it was turning ugly. Even the press has noted Nokiaís financial problems.
Random notes...
Dogs are quite popular pets in Finland. Haven't seen one cat yet. All dogs are on a leash but no pooper scoopers have been spotted. Check out the doggie parking sign to the right. Dogs go everywhere with their owners here...even on public transit. Iím surprised I havenít seen any doggy souvenirs on the tram.
Saw an interesting bumper sticker from an obvious parrothead here in Helsinki..."Fins to the left, fins to the right. Welcome to Finland."
Finns walk faster than most other folks.
I'm seeing several Chinese restaurants that charge you to eat in rather than carry out.
Being a capital city, Helsinki has ethnic restaurants are everywhere.
Finns love to gamble...slot machines everywhere. There are casinos too.
Helsinki is one degree further north than Anchorage Alaska (62/61).
It's almost like everyone here smokes cigarettes though they have to go outside. I'd have thought smoking would be less prevalent.
Karaoke is big here...at all hours of the day.
Finns aren't big on opening stores and restaurants for those that have to be to work early in the morning.
Finns do tend to eat lunch earlier than most...elevenish.
Helsinki parking tickets come in Ziplock bags to get protected from rain.
The common fine in Helsinki is 80 euros...just over a hundred dollars. Ignore a pedestrian at the cross walk...80 euros. Skip payment for public transit...80 euros. Wish they'd fine the tram drivers 80 euros who think they're power hungry drag racers hoping to knock unsuspecting passengers on their butts. If you're not hanging on when the driver starts the tram, you will be.
Predominant American chains here are McDonalds, Pizza Hut, and Subway. American hotel chains do exist but nothing sticks out. Harley Davidson does have a shop and a store that sells clothing. Mars, Pepsi, and Coke brands are big. GM sells cars and trucks like we see in the US. While Ford is popular, the vehicles sold are the European ones.
The one memory that I'll treasure is the sunrise to the east when I arrive at the office each morning...breathtaking!
A few useful links for Helsinki:
I was riding in the tram heading home from work and I saw a flier for a Lionel Richie concert. Could he be coming to Helsinki? I made a mental note to check when I got home. By pure coincidence, one of his songs came playing over my MP3 player when I hit the door. Sure enough, he's playing here on 10/14. I bought my ticket the next day with just over two weeks in advance...row 1, seat 11. The tram will get me there. This is one of those shows on my bucket list. My last international concert was Beijing...2004...Whitney Houston...
Lionel goes way back for me so getting tickets was on my bucket list...getting them in the front row was a dream. I bought my tickets just over two weeks before the show so I feared there wouldnít be many folks in attendance. There were a bunch of two-seat openings behind me when I bought my seat. Most sales clerks and scalpers wouldnít bust up a pair of seats but the computer didnít care. It was another seat sold. Why should I care about busting up a pair of seats? The guy next to me bought his ticket about ten days before the show...he bought the other ticket of the pair of seats I ruined.
While I love Lionelís songs, he couldnít sing them all at full length as heíd be there until the next day. Other than Deep River Woman, a collaboration he did with Alabama, I canít think of a song he didnít sing. If it wasnít full length, he sang a verse and a chorus of the song which made the crowd happy. The audience filled in for Diana Ross on Endless Love.
The crowd filled in just after the first act who sung in English but spoke between songs in Finnish so I didnít catch his name. The venue was a small hockey arena with the upper deck and the rear section closed off....Iíd guess around 4000 people showed.
It was the first concert Iíve attended that sold ear plugs. They left a set on my chair before I arrived. I didnít need them. It wasnít exceptionally loud. I enjoyed the songs though I wouldnít consider him to be a showman on par with Elton John or Michael Jackson...his songs were enough. The man sweated profusely...dripping like a faucet before his first song was over.
He said it was his first concert in Helsinki but he said he was coming back. I donít think work will keep me here until then. Definitely, it was money well spent for a great concert!
I was truly surprised that getting to and from the concert venue was painless. Getting there would be easy. Crowds grow slowly before events but leave quickly after the show. There was a tram waiting for me to take me home.
My only complaint was the ticket itself. It was in Finnish and I was stupid not to check what it said. I ASSUMED the 1800 time was the beginning of the concert so I got there around 1730. No, 1800 was the time the doors opened. The show started at 1930. Now, I know.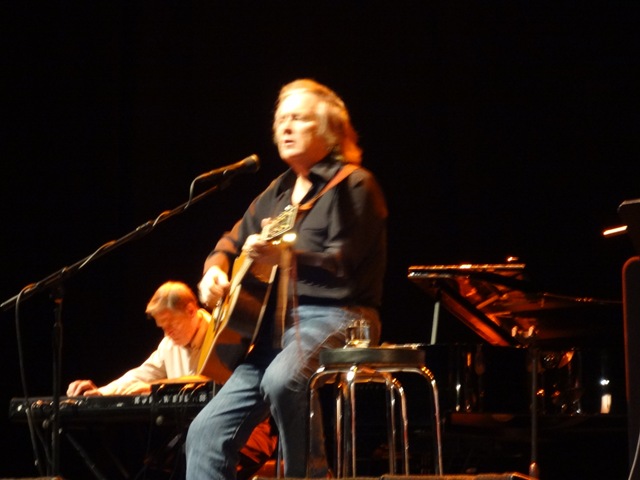 As luck would have it, I found another bucket list concert to attend, Don McLean (American Pie, Vincent, etc.) with another row one seat bought two weeks before the show.
The venue for Donís concert was a ten minute walk from my apartment. It was a concert hall specifically designed for music and probably drama. No ear plugs waiting for me for this show. I was a bit close to the speakers so the electric guitar was hard to hear. Don sang his songs, other songs, and told stories. His voice isnít what it was on his albums. It was the fortieth anniversary tour of the release of his most popular album, American Pie.
My review...He was a bit thin on the hits. What he played was good. It seemed like a low-budget tour...rented equipment and a small crew. He didnít even sell souvenirs. Check another performer off of the bucket list.
Iíd guess the hall would hold about 1500 with about a thousand in attendance.
Like Lionelís opening band, they sung in English yet spoke in Finnish so I have no idea who they were. I recognized many of their songs as different interpretations of songs (slow tempo bluesy acoustic) from American artists.
Weíre approaching perpetual darkness. Itís dark when I go to work and dark when I go home. Iím praying for global warming until I leave here. Mercury has already hit subzero (Fahrenheit) here. I was sitting in our weekly meeting when I heard the boss ask if we had the nighttime snow removal crew ready. Reality gave me a big slap in the face. I was raised in both hot and cold extremes...I just donít like it.
Iíve always wanted to live in a city where I could use the public transit system rather than a car. I find cars inefficient. Waiting for the tram in winter conditions will test my conviction.
Our first snow of the season was 26 October. The forecast on the web showed early in the week but was removed a couple days later. I called home and was told my niece in western Nebraska beat that by a day. The snow appeared to be about a quarter-inch and didnít stick around very long.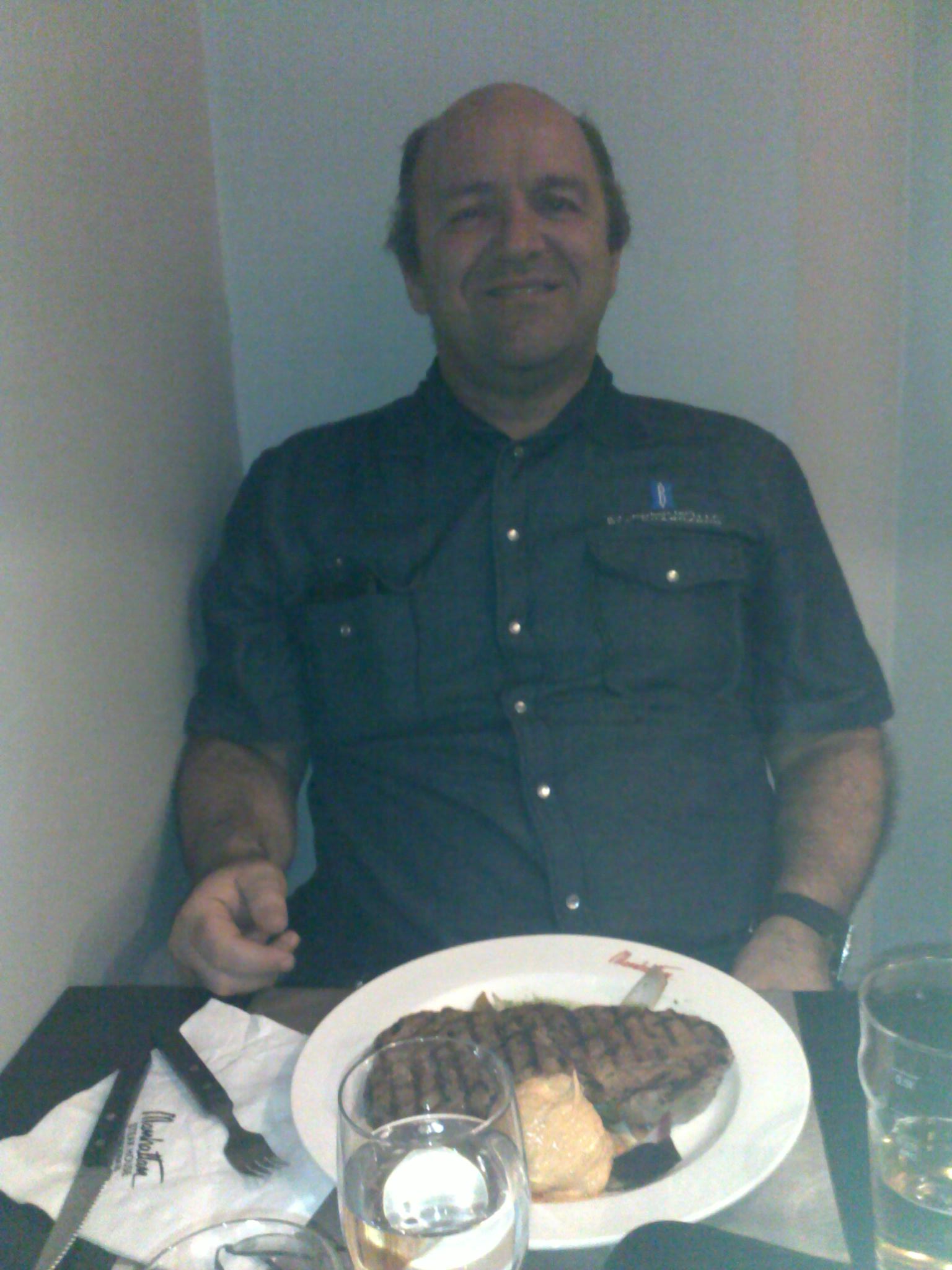 This wasnít Man Versus Food but...it was close. We caught wind of a restaurant offering a steak for two. It was eight-hundred grams (29 ounces)...I kidded my dinner companion that he was going to need to order his own. I could have had dessert too but passed. A week later, a different companion and I tried two, 500 gram steaks (17.6 ounces). Again, dessert crossed the mind but I passed. Like before, there werenít any leftovers.
Thanksgiving...found no Turkey dinners on the web or through the grapevine. Last year was a slight variation of a personal tradition. This year...We tried to do a Mexican restaurant that was new to us...a real dive. Unfortunately, their hours were strange. Eventually, we settled on our favorite hamburger restaurant...blueberry pancakes for dessert.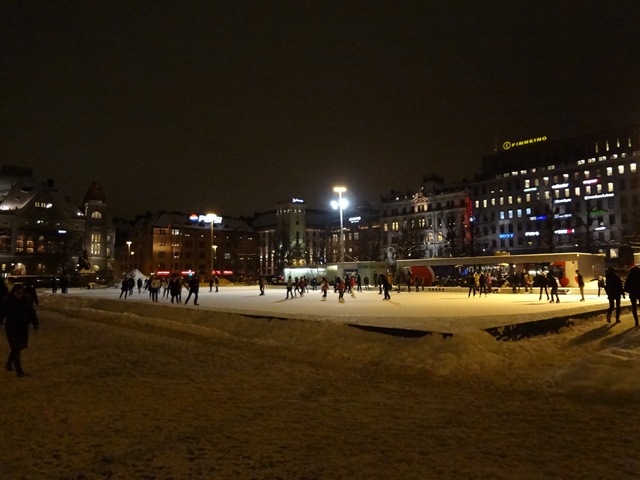 Iíd set it up with my niece to have her computer ready for a video chat via Skype but I dozed off. Luckily, she awakened me and we had a nice video chat with all the family in attendance.
The center square downtown is an ice rink. Most Christmas decorations seem to stay up year round but arenít turned on until the season. Again, you can see my Helsinki Christmas pictures in Helsinki by clicking on the picture at the right.
Iíve loved the many come from behind victories of my beloved Huskers but I could have passed on our Big 10 championship game thrashing. Iím eight hours ahead of home so I watch recorded games where I can fast forward through commercials and half-time. One of our crew is from Georgia so the bowl game will have financial/social consequences to it.
I think the company that hosts my web site may not be doing so well. Iím getting zero tech support and the phone line is dead. Soon, I will change my web site to another host and address. Iíll keep you posted. If you email me if youíre unable to find this site, Iíll send you a new link.
My Christmas plans for this year...still up in the air. I wonít go anywhere. I learned my lesson about flying during the holiday season years ago. I have a mega-backlog of NFL games to watch. We get a three-day weekend for Christmas and just a day for New Yearís. The Finns will take much more. My little voice is telling me that Iíll be home for Christmas...but only in my dreams. Meanwhile, Iím overloading my ears on Christmas music trying to cram the spirit of Christmas into my system. I will call my many "homes" for Christmas via Skype. When you can call friends and family, the distance isnít so far away.
Family Rundown:
Gigi: Still sewing up a storm with her quilts. Her second, Kyle, graduated from high school and is in his freshman year in college with a Regents Scholarship...two in college and one in high school.
Barb: living a leisurely life in Seattle
Theresa: Elizabethís just moved into Catholic high school on an academic scholarship.
Michele: Daniele graduated from college and married...will get her nursing certificate this spring. Maggie is still in college. Ma and Pa still plugging along.
Ma: still fighting the good fightÖas spry as ever.
Iíve updated some of the photos in the BLT Family Section
I broke my 330 when I went home in July. Iíd do it again in a heartbeat. I doubt Iíll get it back with this or the next assignment...whatever that may be. The only certainty is uncertainty...Stay tuned.
I also hope the holidays are good to you and yours. Happy Kwanza! Happy Chanukah! Merry Christmas! Happy New Year!